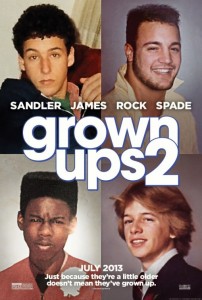 I was surprised when I heard that Grown Ups 2 was on the way. It's the first sequel to an Adam Sandler film from his Happy Madison Productions. Moreover, I didn't think that Grown Ups really needed a sequel. It tied up the story nicely, and everybody had a happy ending of sorts. Nevertheless, Grown Ups 2 is out now, and if you haven't had your fill of Sandler for a while, this flick more than makes up for it. I realize that his type of comedy is an acquired taste much like that of Will Ferrell. For those of you who like Sandler, you'll probably enjoy Grown Ups 2. For those of you who don't, I can point you toward at least one other hit comedy in This Is The End.
A major plus for Grown Ups 2 is that it reunites almost all of the cast and filmmakers of Grown Ups and adds some new talent to keep the sequel at least as entertaining as the first film. Director Dennis Dugan (director of Grown Ups as well as Just Go with It and Jack and Jill) and writers Fred Wolf and Sandler (writers of Grown Ups) teamed up with writer Tim Herlihy (writer or cowriter of most Sandler films, including The Wedding Singer, Happy Gilmore and Billy Madison) for this second movie. That certainly keeps the tone of this movie the same as the others — for good or bad, depending on how much you like the lovable comedian. Rob Schneider is noticeably absent here. I never thought that I'd say that I miss him, but I enjoyed his character in Grown Ups who was married to a woman 30 years his elder and somehow had three hot adult daughters.
Although Sandler, Kevin James, Chris Rock and David Spade are on the movie poster, this is ultimately a Sandler movie with his character in the opening and closing scenes and just about every other sequence. Lenny Feder (Sandler) has moved his family back to New England from California, and he, his wife Roxanne (Salma Hayek) and kids are all adjusting to the changes in pace and lifestyle. The opening scene — no spoiler here because it's in the trailer — has Lenny wake up to a deer next to his bed that freaks out and pees on him when Roxanne screams. This kind of slapstick comedy is the hallmark of this series and what you should expect from this movie. There are plenty of crotch shots, slaps, punches, falls and thrown objects. The Three Stooges would be proud! I rather like that kind of humor, and Grown Ups 2 keeps it up for just about the entire length of the film.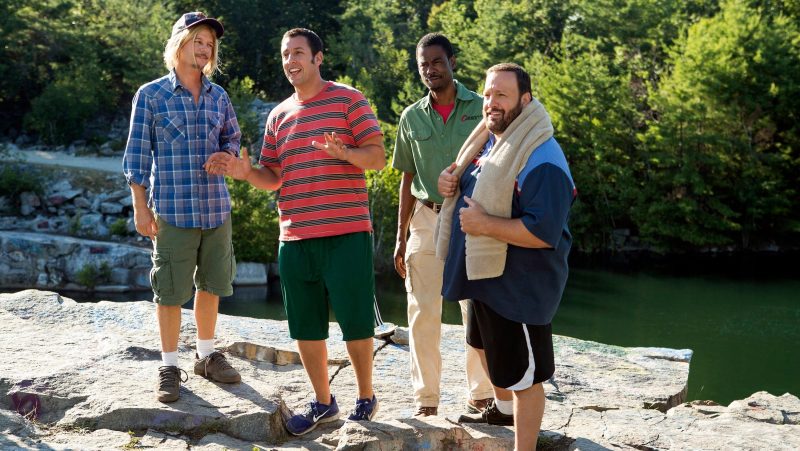 The plot is rather simple and almost forced in that it's confined to one day — the last day of school — whereas Grown Ups spanned a weekend. Each of the main four characters has their own situations to deal with throughout the day, and they come together at various points for different challenges. You couldn't "burp snart" like Eric Lamonsoff (James) without missing a current or former cast member of Saturday Night Live. I'm surprised that series creator Lorne Michaels didn't show up just to collect some kind of commission for making all of these people famous. In addition to returning performers Maya Rudolph, Maria Bello, Steve Buscemi, Colin Quinn and all of the child actors who portray children of the main characters, Shaquille O'Neal actually made me laugh as a crazy cop whose brother is played by Tim Meadows. Nick Swardson goes to comedy depths previously unseen as a possibly gay bus driver who stays drunk all day. Wrestler Steve Austin plays an old bully of Lenny's, and Jon Lovitz unsurprisingly turns up as a perverted janitor at a fitness location.
An uncredited Taylor Lautner gets a lot of screen time as a frat boy from a nearby college who picks a fight with Lenny and his friends. This leads to a big rumble later, but I would have been happy to not see him at all here. His presence is kind of a distraction. One of the funnier sequences involves mostly current Saturday Night Live cast members Andy Samberg, Taran Killam, Bobby Moynihan and others soaping up Eric's car with his wife Sally (Bello) in fits of delight. This is something Ferrell would do, complete with the hairy chest. I think the idea behind this film was to throw as many comedic moments together and fire them off one by one at a rapid pace to keep you laughing. It surprisingly works here, and the feeling of the movie being rushed may come from this approach. I would have loved a plot that spanned at least another weekend. The upside of this is that there's a very cool '80s party that puts most of the cast members in inspired costumes. Prince, Boy George and a fat Richard Simmons make appearances, but I don't dare tell you who wears those costumes.
One of the main elements responsible for my enjoyment of this movie is the collection of songs on the soundtrack. "Lonely is the Night" by Billy Squier, "Dancing with Myself" by Generation X and "Heaven" by Bryan Adams are just some of the great pop and rock songs played during the movie. Expect to hear a lot of J. Geils Band hits, too, because they actually appear briefly in the film. I hate to admit this, but I wouldn't mind a third film in this series — only if they dug up Schneider and perhaps introduced other new characters as well as kept up the pace and silly humor. Comedy doesn't always have to be elegant or witty. It can just be stupid and wacky to appeal to the base humor in all of us. Grown Ups 2 achieves that goal and taught me something that I didn't know existed in "burp snarts."