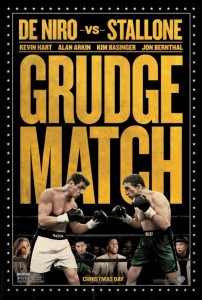 Two retired boxing adversaries get one last chance to settle a decades-old grievance in Grudge Match.
Thirty years ago, two boxers — Henry "Razor" Sharp (Sylvester Stallone) and Billy "The Kid" McDonnen (Robert De Niro) — faced each other in two monumental matches with each winning one bout. On the eve of the culminating third event, Razor unexpectedly retired, denying both of them their biggest payday and leaving open the big question of who would have prevailed.
Three decades later, both men are still harboring ill will toward the other while going about their fairly mundane everyday lives. When a promoter (Kevin Hart) gets them a deal to be part of a video game, sparks inevitably fly and their interaction goes viral, driving interest in a rematch to a fever pitch. As they prepare for their final showdown, both men struggle with long-ignored issues as well as their aging bodies.
This is not a great film. Stallone's been pretty much a joke as an actor for at least the last decade-and-a-half, while De Niro's had possibly the toughest year of his career with four straight bombs on his résumé and this very possibly becoming a fifth. The script is the ultimate wrecking machine, serving up and knocking down one punch-drunk subplot after another. It all starts off with some horrid special effects and is laced with eye-rolling moments throughout. Stallone's distracting acting and physical appearance should have provided the final blow, yet the film still manages to bob and weave through it all to rise for the final bell.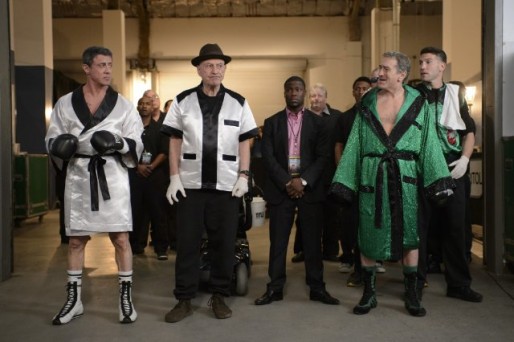 For a story that's not in peak condition, this is a surprisingly funny film. It's littered, from the first round to the last, with highly effective jab-like jokes that keep you laughing throughout. Hart (as the promoter) and Alan Arkin (as Stallone's old trainer) never manage to miss a punch. Even the stars get in a few very effective shots here and there. If the writers simply stuck with the comedy, this could have been a contender. I couldn't help but wonder what this effort would have been like starring Ben Stiller and Vince Vaughn. That's a film everyone would have rushed to see. Instead, we're left with Aging Bull vs. Stocky.
As a serious film, this is a first-round knockout casualty. As a lighthearted, campy comedy, it goes the distance and had the entire audience rooting it on to the finish.