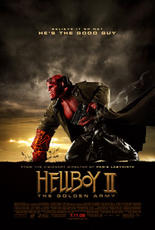 Writer/director Guillermo del Toro returns the world of his 2004 film, Hellboy. Hellboy II: The Golden Army is an action-packed comedic surprise that will keep most any viewer glued to their seat. It also comes on the heels of del Torro's masterwork, 2006's Pan's Labyrinth.
I'm most notably not a comic book fan and, as such, I never saw the original Hellboy film or read any of the comics. If not for my fascination with Pan's Labyrinth I wouldn't have even bothered with this installment. Even with that I really didn't expect much, and yet I had a great time.
The story is typical comic book fare. For starters, it's entirely ridiculous. The military (circa 1944) finds a creature that comes from Hell and raises him here just as if he's a typical 1950s kid. The catch is that his kid is virtually indestructible, has large horns (that he hides by constantly shaving them down), a huge right hand, and is completely red. What's to notice?
If you can get past that you're in for a treat. The movie tells a great comic book story and manages to even make you laugh out loud several times along the way. I enjoyed most of the characters in it (most notably Tom Manning played hilariously by Jeffrey Tambor) and look forward to another future installment.