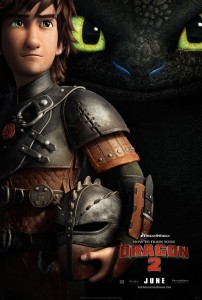 An adolescent viking and his pet dragon encounter a disturbing clan that threatens the peace in How to Train Your Dragon 2.
2010's animated film How to Train Your Dragon was one of my five best for the year. It introduced us to the story of young Hiccup (voiced by Jay Baruchel), the awkward but inventive son of a burly viking chief named Stoick (Gerard Butler). The vikings, beset by dragons, callously fought them to their death. They believed them to be nothing more than wild, dangerous creatures until Hiccup befriended an injured dragon he named Toothless. Together, Hiccup and Toothless slowly won over the hearts and minds of their entire community until, finally, dragons and vikings lived together in mutual harmony.
All of the major characters from the first installment return for the sequel, which takes place several years later. Hiccup and his friends are now on the verge of becoming adults. Along with the rest of the village, they spend much of their time in dragon-based sporting events involving some fairly unwilling sheep and modified catapults. It's all fun and games — unless you happen to be a sheep.
One day, while flying far away from home, Hiccup discovers a hidden icy island inhabited by a group of nefarious vikings intent on enslaving the dragons and turning them into weapons of war. Hiccup, of course, cannot let them get away with it and immediately mobilizes to put a stop to the evil plan.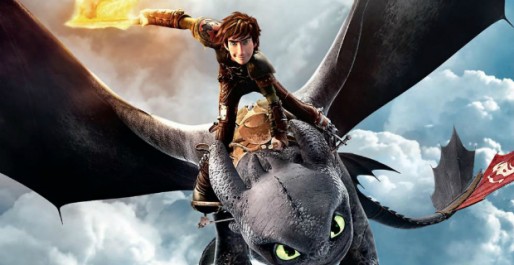 From the very start, everything about the sequel has a distinct feel that sets it apart from the original. The look is crisper, giving everything an intentional harder edge. The characters, now much older, don't benefit from the same infectious cuteness. They're more rebellious and more mature, and they're concerned with bigger goals. Before, the enemy was essentially the unknown; the vikings now have to contend with their own kind, hell-bent on destroying everything Hiccup and his clan have worked so hard to foster. The result is a much darker tale with more emotionally charged consequences.
The whimsical fancy of the original gives way to an epic tale that feels more reminiscent of The Lord of the Rings than it does to any "boy and his pet" fairy tale. One action-packed battle follows another as two grand armies clash against each other in a crusade that can only have one victor.
Although much of the flavor of the first film has been replaced, the sequel manages to create its own identity while retaining the elements that make it a success in its own right. Funny, beautiful and, now, filled with a surprising number of deeper lessons, our favorite dragon tale continues to fly high in a sky filled with supercharged heat.