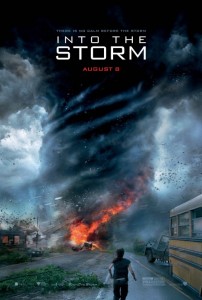 A small Midwestern town finds itself at the mercy of several catastrophic tornadoes in Into the Storm.
Silverton High School is preparing for the graduation of its latest senior class. For the moment, the skies are clear, but rain looms on the horizon, threatening to dampen both the ground and the festive audience. Meanwhile, two disparate teams of storm chasers set their sights on the small town. They're monitoring the largest storm either of them have ever tracked. Both teams hope to gain fame and fortune by getting the best possible tornado footage ever filmed.
Brothers Donnie (Max Deacon) and Trey Morris (Nathan Kress), both avid videographers and Silverton students, are tasked with recording the graduation ceremony. Everything's fine until Donnie gets a chance to make an impression on fellow classmate Kaitlyn (Alycia Debnam-Carey). She needs immediate help shooting a video at a deserted mill for a botched assignment. Donnie puts on his best suit of armor, and the two head off, with Trey's begrudging approval. When the storm emerges, it suddenly changes path, heading directly for the school, now filled with restless seniors and countless proud, unsuspecting guests.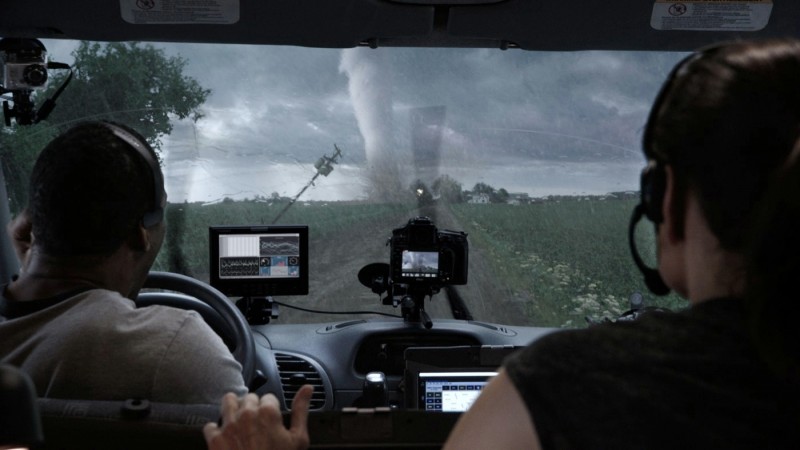 This intentionally — I hope — campy disaster film attempts to reimagine and trump Hollywood's last blockbuster tornado film, 1996's Twister. The cast is nearly devoid of familiar faces, opting instead on a plan to win us over with impressive special effects and a swirling tempo that only knows how to go faster.
In nearly every way, this film is a potential disaster in its own right. First, it goes awry with out-of-control "found footage" shots from nearly every character we see. The plot offers nothing new — quite the contrary. The clichés rack up faster than the film's formidable hail. The interactions are mostly laughable, and the storm itself is so over-the-top insane that even Sharknado starts to look plausible. One character emerges from a direct entanglement with a massive twister with not as much as a single displaced hair.
Laden with low-quality ingredients, this unlikely recipe somehow manages to churn out a meal we gobble up willingly. This is the absolute definition of a roaring popcorn movie. Its most sinister feature is the way it stealthily sneaks up on you. Its magnetic vortex pulls you into its grasp, leaving behind a wake of torn and discarded reason.
Viewers will also be treated to one of the biggest jaw-dropping effects ever put on film. This is an adrenaline junkie's dream, coupled with just the right mix of laughter to make it all work. Seat belts are optional but recommended.