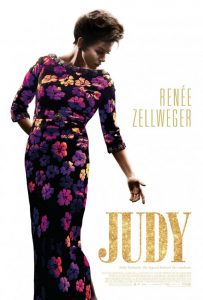 A beloved Hollywood icon copes with the impact of a stolen youth, raging addictions and poor choices in Judy.
While Hollywood is rife with true-life tales of woe, few are as poignant as the one lived by Judy Garland (Renée Zellweger). Her trademark song, "Over the Rainbow," meant to evoke a message of hopefulness, became a ballad about a rainbow perpetually beyond her reach. Garland's turn as Dorothy Gale in The Wizard of Oz should have been the stuff of rapturous dreams. What she got instead was a hazy, drug-and-alcohol-tinged nightmare that carried on through much of the rest of her life.
This introspective look at the end of Garland's journey begins a mere 18 months before her eventual death at just 47. Her last hurrah, an offer to star in her own show in a famed London venue, is a train wreck lurking just beyond the next corner. The film takes us through the motions — her personal challenges, her lack of options, her hopeful optimism and her eventual self-inflicted descent. Garland was clearly her own worst enemy, but why?
The film is at its best when it fades back to her days on the MGM studio lot during the filming of Oz. We watch as Louis B. Mayer (the second "M" in MGM) berates his young star and dictates her every action. Those moments are the film's most genuine and most magical, but they're as fleeting as Garland's sobriety. It leaves the audience with little more than a caricature of Mayer at which to aim their disgust.
As Garland, Zellweger gives us another Oscar-worthy performance. She not only does a solid job handling the singing duties, but inhabits Garland so fully that we quickly forget that there's just an actor behind the makeup. Unfortunately, that's pretty much the only reason to see the film. Everything else keeps us at too far of a distance to really care. Her marriage to Mickey Deans (Finn Wittrock), while seemingly pivotal to the plot, makes little sense as presented. We can't really grasp why either of them bothers with the other. A sequence of scenes involving two gay fans feels little more than contrived. The one standout beyond Zellweger is Jessie Buckley as Rosalyn Wilder, a young assistant tasked with the impossible — to keep Judy on schedule. Playing the young Garland, Darci Shaw is nearly as remarkable, but just isn't around enough to appreciate properly.
This is a film that, to my eye, was told in the wrong direction. The fertile landscape for this tragedy was in Garland's past. That's where we only briefly sensed the power, beauty and allure of the rainbow. The glimpses we're given are stunningly beautiful and instantly impacting. Focusing the film in that world would have better prepared us to fully understand the torment of a life that we knew only too briefly.