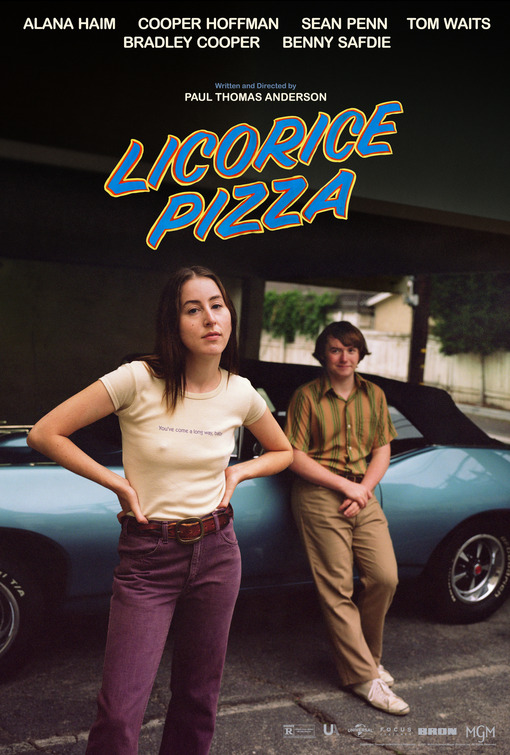 Teen comedies set in California pop up every now and then. From American Graffiti to Fast Times at Ridgemont High to Superbad, they define both the decades and regions in which they're set. Writer/director Paul Thomas Anderson opened up a time capsule in his head and has now delivered his own entry into that subgenre. Much like my experience with Call Me by Your Name, I went along for the ride despite having some issues with the story and characters. That leaves me torn on how I truly feel about this film because I enjoyed that ride even if it seemed like Anderson steered the audience downhill in neutral as a scene in the movie. Licorice Pizza establishes the careers of two young actors in their debuts as it slices up its teen romantic comedy into smaller hit-or-miss pieces.
Anderson based a lot of characters, situations and locations on real people and events from 1973, but as a moviegoer, I shouldn't need to know any of that to enjoy the experience. Fortunately, I didn't feel left out too much on the proceedings. The first scene's toilet explosion by pranking teen boys serves as an omen for the juvenile events to come and the spread of vignettes, some of which might just stick. High school student Gary Valentine (Cooper Hoffman) stands in line for school pictures when he spots Alana Kane (Alana Haim of the family band Haim), an employee of the photo studio who chats with him in the opposite of a meet-cute moment. Would that be meet-ugly or meet-angry given Alana's attitude toward Gary? Regardless, 15-year-old Gary pursues Alana despite her being 25 (or 28?) years old. An aspiring actor, Gary somehow gets Alana to chaperone him to New York, and they grow closer over the course of the movie, including Gary's business ventures as a waterbed salesman and pinball arcade operator. Gary and Alana go through their own adventures as well as some shared ones, so they swerve in and out of each other's lives much like the lead characters in La La Land.
Hoffman's father was Philip Seymour Hoffman, so I guess that the acting bug is genetic. Confident and maybe a little cocky as Gary, Hoffman is a better actor than his character is. Lanky and young, it will be neat to see if he grows into this acting thing over time. I don't know the band Haim's music, so this was my first encounter with Alana Haim. The petite, feisty actress clearly feels comfortable in front of a camera, and her snark and sarcasm draw you to Alana much like Gary was attracted to her. With these two debuts at the center of the movie, there had better be other actors to support the proceedings. That's where things get murky. Many familiar actors appear as real people or variations of real people to protect the innocent… or avoid family lawsuits. Blink for a second, and you'll miss John C. Reilly. Bradley Cooper portrays horny jerk Jon Peters in a few fun scenes that at least make you laugh. Sean Penn and Tom Waits re-create a movie scene of Penn's character, actor Jack Holden, with Waits's Rex Blau directing the action on a golf course. Later in the plot, Alana goes to work for a politician (Benny Safdie, cowriter/codirector of Uncut Gems). The adult actors distract in some cases, and at other times, they fit right in like Cooper. Anderson directed music videos for the band Haim, and he enlisted the entire Haim family to play versions of themselves as Alana's family. The father is hilarious. One other actor stands out. Skyler Gisondo plays actor Lance Brannigan, a sleazy guy who makes the moves on Alana and causes Gary to be jealous.
The setting in Encino and the San Fernando Valley puts these kids right near the movie business where it's a regular thing to run into actors like Holden (a stand-in for William Holden) and other luminaries like Peters, who schools Gary on how to pronounce Barbra Streisand's last name. I don't know the area well, but some of it comes off as realistic to me, especially a sequence during the gas shortage when Alana has to steer a truck with no gas downhill from the Peters estate. Moviegoers who live nearby will probably recognize or remember some of the restaurants and locations peppered throughout the movie. With many events and stars circling Gary and Alana, the structure mimics Quentin Tarantino's Once Upon a Time… in Hollywood, except this is a little to the north. The '70s fashion looks right, from the crazy colors like red and purple to Alana seemingly never wearing a bra. Hoffman sports an outfit with a white suit and a pink shirt that I hope that he kept for himself after filming. One anachronism was Alana calling back Gary after a hang-up call; I don't think that *69 existed back in 1973.
For all of the positives, three issues bothered me right after I left the theater. Most importantly, Alana's age doesn't jive with the script or the relationship. At one point, Alana questions whether she should be hanging around with a bunch of kids. Well, yeah! I feel guilty cheering for their romance based on the age gap. Anderson could have easily made this a non-issue by establishing Alana's age as 18, close enough to be realistic, yet old enough for her to initially spurn Gary. Although the story starts at school, the film spends little time with Gary there. Instead, he works on his businesses and acting career to the point where I had to question how much his mother was around despite a cursory explanation about her absence. There are latchkey kids, and there are emancipated minors. Gary acts like the latter, which is unrealistic given his age and adventures. In fact, his mother might even be working for his waterbed business. The needling problem is the title. I had to do research to discover why Anderson named the movie that way. I should not have to Google a title. In Phantom Thread, a boring mess for me and Anderson's only movie that I disliked, the title receives an explanation early on. For those who care, a record store chain was also named like this film, and they themselves took the title from a comedy duo who referred to vinyl records that way in one of their bits.
Movie soundtracks sometimes elevate a film to a place higher than the merits of the plot and acting themselves. Fast Times at Ridgemont High spawned a soundtrack of almost all original hit songs. That's not the case here, but I love the selection of '70s-era tracks that fit in and between the scenes perfectly. I'm not sure where Anderson goes next after this love letter to his childhood. Although it was compelling to watch, I still had those misgivings enough that I wouldn't heap praise on it. I expect that individual segments will grow on me and others over time. Licorice Pizza's nostalgia for another era will tide you over until the next teen comedy set in California.