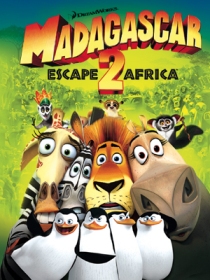 The family headed out to see Madagascar: Escape 2 Africa which is, of course, the sequel to 2005's animated success Madagascar.
The original was a surprisingly funny film with some fresh material that impressed many. It tells the story of four main characters—a lion, zebra, giraffe and hippo, that live in a zoo in New York and manage to get outside those confines into the outside world.
The sequel picks up where the original left off—with the characters marooned in Madagascar. All the important characters are back and each are voiced by the same talent as the original. The four main characters are voiced by Ben Stiller, Chris Rock, David Schwimmer and Jada Pinkett Smith. Also back are the great "minor" characters in the form of mob-like penguins, delusional lemurs and very strange chimps.
The main plot involves a plan by the characters to get off Madagascar and back to the zoo. Of course it's all quite fantastical and rather beyond the limits of any rationalization but this is an animated movie so anything is possible.
The bottom line is that, while this movie doesn't have the originality of the first entry, it's extremely funny in its own right. The jokes are pretty good and come quite often. It's not the best animated movie around but it's still well worth the experience.