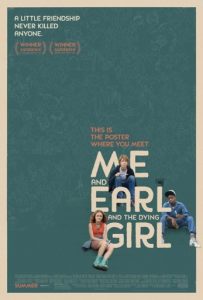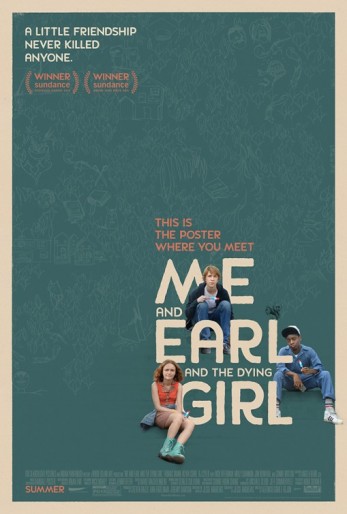 Olivia Cooke is a fine young actress. I like her. I really do, especially in Bates Motel. Unfortunately, she doesn't seem to pick the right movies. In the last year, she appeared in The Signal, The Quiet Ones and Ouija. I didn't like any of those films. Her acting wasn't the cause of the problems. The same is true for her latest movie called Me and Earl and the Dying Girl. It's a wry comedy about a senior in high school (the "Me") and his only two real friends. I was dulled despite many promising aspects. It may have been a hit as a young adult novel, but Me and Earl and the Dying Girl will likely cause its core audience to check out early with its uneven handling of comedy and melodrama.
Director Alfonso Gomez-Rejon has previous experience in television, including American Horror Story: Coven and Red Band Society, another project that involves sick kids. He skillfully switches between real-world scenes, sequences in clay animation and spoofs of classic films as created by two of the leads. The biggest problem is that it all falls flat and elicits barely a chuckle now and again. Writer Jesse Andrews adapts his own novel here, and he was probably too close to the source material to do that properly. There's enough blame to go around with a soundtrack of music by Brian Eno and Nico Muhly that puts you into a somnambulant state.
The plot is some combination of Diary of a Wimpy Kid skewed older and Be Kind Rewind. Greg (Thomas Mann) is a senior in a Pittsburgh high school who successfully navigates the corridors, his classes and any high school drama by blending in with whatever clique he happens to be near. With Greg's narration and some other techniques like titles that mark highlights in Greg's life, the events feel like they're part of a blog. Greg's only friend Earl (RJ Cyler) shares his interest in classic films, and they make low-budget versions of them for fun. When Greg's mother (Connie Britton) suggests that he spend time with a classmate named Rachel (Cooke) who has leukemia, Greg resists at first — "Day 1 of Doomed Friendship" pops up on screen — and then warms to her quirkiness and intelligence. Rachel's sickness is a sort of downer on the story. Fortunately, her character is strong, smart and witty and laughs offs her struggles as well as confronting them head on.
I liked the way that Gomez-Rejon tried to mix things up with the switches to clay animation and movies within movies. It offers a chance for some variation in the narrative. The clay animation highlights some of Greg's comments or experiences like dealing with the opposite sex. The movie spoofs are creative and truly funny. In some cases, there are actual clips from those updates by Greg and Earl. For other projects of the two, only the cases are visible as with "Eyes Wide Butt." The parodies mostly display the goofy humor of two teenage boys, so they're a welcome delight in this sea of awkwardness. Although Gomez-Rejon weaves in these departures from the real-world events, the movie really just chugs along at the same rate as if a singer held a long, uninteresting note. The snappy dialogue and true wit that are probably in the novel needed to be brought out more in the film.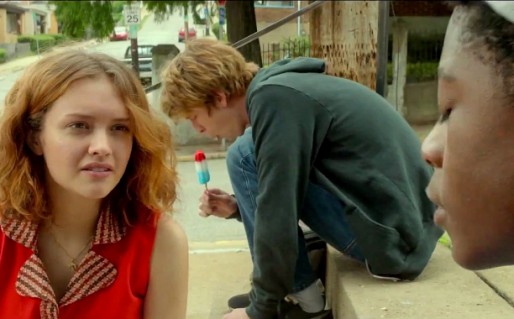 The acting also saves Me and Earl and the Dying Girl from disaster. This is Cooke's best work, and it's no surprise that Greg warms up to Rachel as portrayed by Cooke. Rachel has a magnetic personality and peaceful nature that invites you in, and Cooke pulls off that same kind of character in Bates Motel. I look forward to her better projects. Mann and Cyler are also perfect matches for their roles. Their stars will rise with any attention given to this film. Mann almost has a Michael Cera vibe, which could be good or bad based on your opinion of that actor. Earl is more outspoken than Greg, so it's important to buy his occasional outbursts. Cyler embodies Earl and is a good counterpoint to Mann. The adults in the story are almost nonexistent, so the actors in those roles (Britton, Nick Offerman, Molly Shannon and Jon Bernthal) don't get a lot of important screen time.
This film may play better to those who know the source material, but that audience shouldn't be the only target of filmmakers. Also, not all successful books can or should be adapted. The written word is infinitely more powerful in the right hands. I had high hopes going into this movie, and they were dashed by the time Greg's senior year was over. Me and Earl and the Dying Girl is one of those viewing experiences full of teen angst that is as tough to endure as your actual teenage years and just as painful to recall.