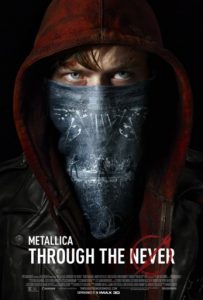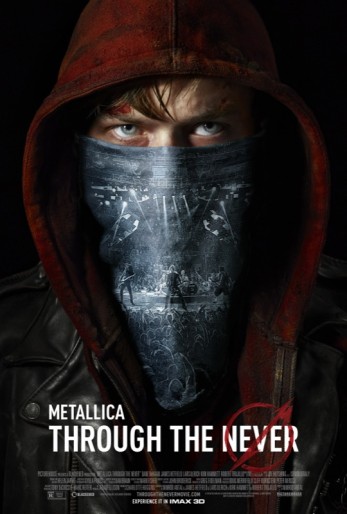 Concert films come in all flavors. There are the kinds that mix backstage footage with the performances, and then there are the types that just show the concerts from various angles but don't add more to the mix. The latter types are almost never released to theaters other than Fathom Events, which are usually screened around the time of a home video release. Katy Perry: Part of Me told Katy Perry's life story and presented tour footage between songs. The filming dates were ill timed because they also captured her marital trouble with Russell Brand during that time period. Neil Young Journeys interspersed songs from Neil Young's concerts at Toronto's Massey Hall with a road trip through his old haunts and hometown. When Metallica set out to produce a concert film, they had no need for band drama or tour scenes. Metallica: Some Kind of Monster (2004) is a documentary about the band and the making of their album St. Anger, and it has more than enough angst and candid exchanges. Instead, Metallica: Through the Never features Metallica at their best in an abbreviated concert mixed with very brief story elements that make it better than a straight concert film.
Metallica teamed up with noted director Nimród Antal (cowriter/director of Kontroll and director of Vacancy, Armored and Predators) for this project. Antal shares writing credits with band members James Hetfield, Kirk Hammett, Lars Ulrich and Robert Trujillo. Writing credits, you ask? What could they possibly have written for this movie? Well, a minor plot involves a roadie named Trip (Dane DeHaan of Chronicle and The Place Beyond the Pines) who is sent out with a gas can to assist a broken-down tour truck and retrieve an important item. Along the way, he encounters an angry mob in the middle of a riot with police as well as a murderous horseman who chases Trip through the streets surrounding the concert arena. Does any of this make sense? Not really. Still, it's kind of cool in that Trip's adventures very loosely mirror the activity on stage and the song titles performed.
You don't go to a concert film for the extra elements; you go for the performances. Antal presents a high-energy Metallica concert from the excited fans to a solid set list. Designed for and shot in the IMAX format, Metallica: Through the Never is as close as you're going to get to a Metallica concert without being there. Most modern IMAX theaters have booming sound systems to accompany the big visuals, and those two elements make this film the perfect experience for music enthusiasts and Metallica fans alike. The close vantage point lets you see the funny faces that Ulrich makes while pounding the drums hard. It also lets you better see details like Hammett's guitar themed to Boris Karloff's The Mummy. Antal performs a bit of movie trickery in his filming. Although presented as one concert, the stage scenes were filmed at two concerts in August 2012 in Canada. The street scenes may also have been filmed in Canada, but I very clearly saw signage for the Prudential Center, which would place those scenes in Newark. Other than obvious changes to the band members' clothes, the entire experience is rather seamless.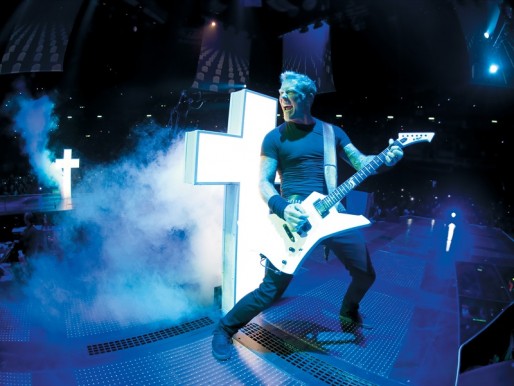 There are no real surprises in the set list, which I've added below. Classics like "Master of Puppets," "Enter Sandman" and "Creeping Death" accompany the underrated "…And Justice for All" and the new song "Cyanide" from Death Magnetic, the album that spawned this tour. Hetfield's microphone goes out in the middle of "Ride the Lightning," and he has to jump to another microphone. I'm happy that Antal left in this glitch because that's what live music is all about — the unexpected. There are only parts of a couple of songs played in the movie in order to switch to another scene with Trip, and I consider that a mistake. I saw Metallica very early on in the tour, so I'm not sure if some staging elements like a video floor were added for the movie or later legs of the tour. If they were part of the movie budget, they're welcome enhancements. If they weren't, it shows how Metallica evolved their set over the course of the tour. In particular, stagehands erect the statue on the cover of …And Justice for All during the titular song, and it is later destroyed. During "Cyanide," the coffin-shaped light rigs feature video screens of people trapped inside them as if buried alive. More importantly, I noticed that Metallica left something impressive out of the show that I saw. They introduced colored flames as a new technology during certain songs like "One," and this movie only shows standard flames.
Metallica: Through the Never is a comeback of sorts for the band after the low point of Metallica: Some Kind of Monster. It serves as both a visual record of the tour and something more ambitious. People might feel frustrated with the resolution of Trip's quest, but don't get too worked up over it. Antal directs the scenes like a short movie, and the visuals and special effects are of high quality. I can still picture that flaming police car rolling by. I enjoyed watching Trujillo play his bass in his signature stance for Metallica and previous bands; this film really highlights his personality and cements his presence with the band into the foreseeable future. Metallica: Through the Never is clearly aimed at a smaller segment of the moviegoing public. It serves them well and could convert others.
Metallica: Through the Never Set List
1) The Ecstasy of Gold (Ennio Morricone instrumental used as intro music)
2) Creeping Death
3) For Whom the Bell Tolls
4) Fuel
5) Ride the Lightning
6) One
7) The Memory Remains
8) Wherever I May Roam (small part)
9) Cyanide
10) …And Justice for All
11) Master of Puppets
12) Battery (small part)
13) Nothing Else Matters
14) Enter Sandman
15) Hit the Lights (concert finale)
16) Orion (instrumental played on the stage without a crowd during the credits)