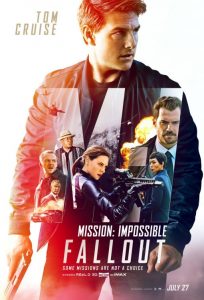 A resilient secret agent races against time to recover lost nukes in Mission: Impossible – Fallout.
Veteran agent Ethan Hunt (Tom Cruise) and his ever-crafty team of irregulars return to the field in the fifth film since 1996's Mission: Impossible. This time around, Hunt is tasked with tracking down two targets — a criminal mastermind and a stash of weaponized plutonium that disappeared in an earlier failed mission. His objective is further complicated when the CIA assigns their own agent (played by Henry Cavill) to shadow Hunt's every move.
Cruise returns to the role from which he claimed to be retiring after the fourth film, 2011's Mission: Impossible – Ghost Protocol. This latest installment retains many of its signature elements — a self-destructing mission objective, a quirky team of curious misfits and enough nonstop action to make a hummingbird envious. Fans of the franchise will have an outside shot at deciphering its nearly impenetrable plot. Anyone else would be best advised to ignore everything but the robust effects. The good news is that pretty much seems to be the point.
To be blunt, Fallout is two-and-a-half hours of nonsensical jibber-jabber interspersed with adrenaline-inducing special effects. After 22 years, we can follow its path blindfolded. Once again, Hunt is under scrutiny for some past faux pas leaving him and his team to set things right with little, if any, help from the outside. Along the way, he distracts every woman in his orbit while simultaneously saving the world from ruin, all with no time to spare and no hair out of place.
The series was once a whip-smart example of what every Bond film should aspire to be. Now, it just feels tired. The exception — the film's saving grace — is Cruise. Magnetism was invented to describe him. He draws us in even as we recognize that what we're watching is ridiculous. A close second is Vanessa Kirby as a fascinating character known as the White Widow. After that, it's slim pickin'. Ving Rhames and Simon Pegg reprise their roles as Hunt's core team, but both look worn and bored. The other key female roles exist purely to remind us that Hunt's a hunk.
The biggest mistake is the film's running time. At 90 minutes, this would have been unforgettable. At nearly 150 minutes, we forget half of what's going on while it's happening. There's a helicopter sequence near the end that stands as the perfect parallel for the film. What starts out as a mesmerizing bit of magic then overstays its inconceivable welcome before dragging the entire film down as it runs out of gas.