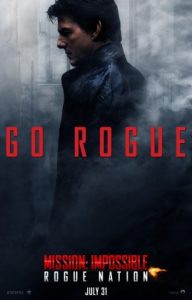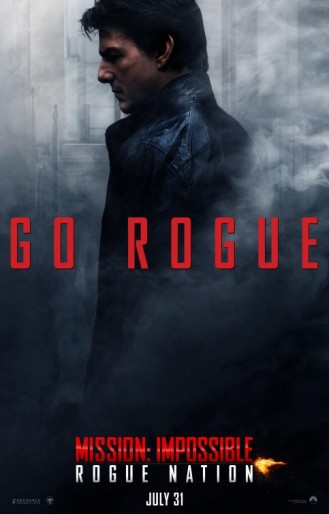 Love him or hate him for any reason, Tom Cruise remains an international movie star and box office draw. Some movie companies stake their budgets on these facts, and it doesn't always work out. Over the past two decades, the Mission: Impossible franchise has featured some of Cruise's best work in that time period. Characterized by daring stunts and lots of secret-agent intrigue, the films are almost always fun to watch. The latest entry didn't impress me as much as Mission: Impossible – Ghost Protocol. Although there are some standout sequences and one breakout performance, Mission: Impossible – Rogue Nation gets bogged down in thrown-together plot points that only serve to take the characters to different locations around the world.
Cruise wears multiple hats here, including producing, acting and performing many of his own stunts. In addition to the familiar cast members, writer/director Christopher McQuarrie has some history with Cruise as well. An Academy Award winner for writing The Usual Suspects, McQuarrie wrote and directed Jack Reacher and cowrote Valkyrie and Edge of Tomorrow. This is not his best work in the writing department with Cruise's Ethan Hunt taking on certain challenges and missions that are poor excuses for advancing the plot. However, on the directing side, I was quite impressed. The film moves along at a quick, exciting pace even if it doesn't make sense at times, and the stunts are breathtaking if not physically possible in some cases. I'd easily welcome back McQuarrie to direct the inevitable Mission: Impossible sequel.
The story starts out simple and grows more complex over the running time. An AWOL Hunt is taking the blame for most of the mistakes of the Impossible Missions Force (IMF) in the previous movies in some committee's hearing. Smarmy CIA director Alan Hunley (Alec Baldwin) wants Hunt captured or killed, and fellow IMF member William Brandt (Jeremy Renner) stalls for time so that Hunt can clear his name. With the assistance of computer expert Benji Dunn (Simon Pegg at his manic best) and talented go-to agent Luther Stickell (Ving Rhames playing it cool), Hunt attempts to take down the Syndicate, an international group of criminals made up of rogue agents as a sort-of anti-IMF. (That still doesn't qualify as a "rogue nation," so I'm not sure where that subtitle originates.) Along the way to bringing down the Syndicate and its leader, Solomon Lane (Sean Harris), Hunt tangles with Ilsa Faust (Rebecca Ferguson of Starz's The White Queen) again and again to the point where I'm still not sure about her position even after seeing the movie. Ferguson steals every scene, even from Cruise, so it's a shame that her story arc is kind of a shambles.
Let's face it. When you mention the Mission: Impossible movies, people immediately think of the iconic image of Cruise dangling from wires to be lowered into a room. This sequence has been spoofed so many times, including on The Simpsons. Mission: Impossible – Rogue Nation has plenty of memorable stunts, but none of them top the window walking of the previous film in my mind. I applaud Cruise for doing his own stunts, and I'm sure that the other producers are very nervous. The problem with the stunts this time around is that they cross the line from outrageous to silly or even physically impossible. A water stunt just makes no sense other than to see how far McQuarrie can push Hunt's abilities in the story. I can't buy the much-talked-about opening bit with Cruise hanging from a plane by his fingers based on my personal skydiving experience and the air flow against a cruising small plane let alone a cargo plane taking off. The best sequences are the chase scenes in Morocco, especially the white-knuckled motorcycle scenes. Sure, they couldn't really happen, yet I didn't feel as insulted as with some of the earlier bits.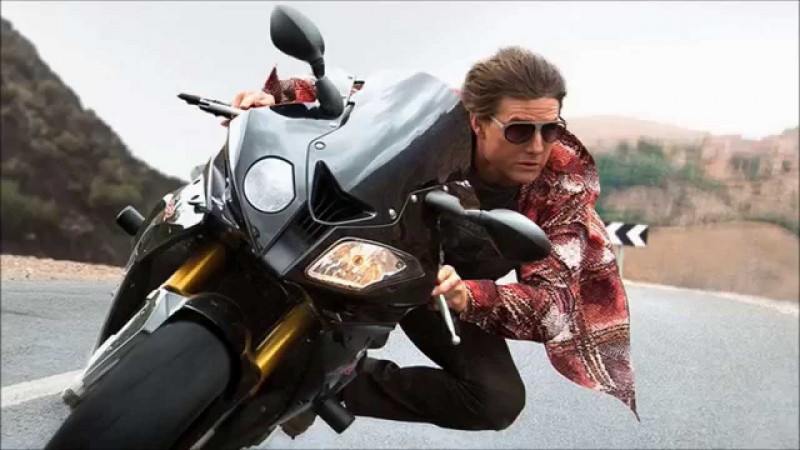 Spy films are only as good as the bad guys and the twists and turns of the plot. Harris is appropriately creepy as the antagonist. With his outfit and demeanor, it's hard not to think of Lane as an evil, misguided Steve Jobs. Jens Hultén as tough guy/enforcer Janik Vinter is definitely someone whom you don't want to meet in a London torture cell. I like the variety of locations around the world where the plot strains to go. I just wish that there was something more substantial to do or obtain once Hunt and company get there. More than any other thought when I left the theater, this felt like a James Bond film from the intrigue and world locations to the over-the-top stunts and someone (Faust) clearly modeled after a "Bond girl." It's not a bad thing to elevate Hunt to that level. It's just that the unique aspects of the franchise still need to be emphasized.
Cruise keeps the energy high in this long-running series and also engages you from start to finish, so don't expect these big-screen missions to stop anytime soon. In every film in the series, you can expect at least one mission delivered in a self-destructing format and a major character using a lifelike mask to impersonate someone else. Those boxes are checked here, and IMAX moviegoers also get a special IMAX countdown set to the familiar theme music. Part of the film takes place in Vienna during a performance of Turandot, and it's a nice touch to have some of that music play during certain dramatic scenes between Hunt and Faust. Despite its shortcomings, the entertaining Mission: Impossible – Rogue Nation ensures that future entries are not merely possible but probable.