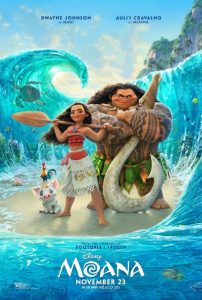 A young girl seeks to save her people from impending doom in the animated adventure Moana.
Motunui Island has been the idyllic home of a Polynesian community for generations. Someday soon it will be led by the chief's only child, his daughter Moana (Auli'i Cravalho). As she begins to understand her place in the world, she's perplexed by a contradiction. Her people are surrounded by a wondrous ocean, yet her father (Temuera Morrison) forbids anyone from venturing beyond the island's reefs. He won't even allow young Moana to play in the relative safety of its surf. One day, her beloved grandmother (Rachel House) sheds essential light on the paradox.
A dark force is slowly taking hold over the island, drying up its essential resources. Legend speaks of a hero who will journey across the seas to find the demigod Maui (Dwayne Johnson), and together they will save the people. Moana's father tried to fulfill this legend, only to be rebuffed by the power of the mighty ocean. Now, young Moana comes to believe that she is the hero of whom the legend speaks and sets sail in hopes of finding the mysterious Maui. It's a journey that will push the young adventurer to discover the most elusive destination — her own identity.
Far too often, animated films have dazzled us with their technical prowess but failed to engage us where it really counts. This is not so with Disney's latest "princess" offering. The visuals, dominated by a Polynesian paradise, raise the perpetually rising bar to tsunami-like heights. The rest of the film is every bit as impressive. This is a brilliant crown jewel in a Disney treasure chest overflowing with legendary gems. We're captivated by the lore and mythology of an island culture drenched in trademark Disney magic. We're quickly charmed by its title character, whose powerhouse of independent energy is only matched by the boundless ego of her hilarious nemesis Maui. The most surprising character, however, is a non-speaking, scene-stealing chicken.
The final touch is a soundtrack boasting at least two top-flight songs that will have every toe in the audience tapping. It's a story with just the perfect mix of humor, tension and a tear or two. You might as well book your island vacation now. Once the kids see this, it's all that any of them will be talking about. Damn you, Disney!