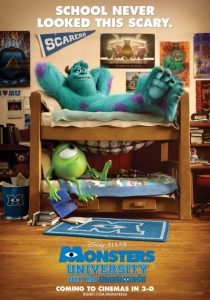 I avoided the fraternities and sororities in college except for the parties. Some of those were quite wild and involved all kinds of drinking stunts and things I wouldn't even consider today. That kind of spirit infuses Monsters University, but the emphasis is on scares instead of drinking. This is the first prequel to a Pixar film. It's fun to take that journey and see characters at an earlier age; I don't think that this particular trip was necessary. Although it's got lots of beautiful animation, new monsters and gags, this movie lacks the humor and warmth that made Monsters, Inc. such a great experience. I liked this look back in time, but I didn't love it. Monsters University is closer to Revenge of the Nerds than the prequel that I expected.
Cowriter/director Dan Scanlon has worked as both a writer and animator on Cars and other animated films. Cowriters Robert L. Baird and Daniel Gerson also wrote material for Cars and Monsters, Inc., so this film was in good hands from the start. The animation is simply stunning with some scenes approaching a photorealistic level of quality. However, the emphasis is more on quantity rather than quality when it comes to the characters. Just look at the official movie poster to get an idea of the scope of the film. (Can you count how many different monsters, even partial ones, are on the poster? I put the answer at the bottom of this review backwards in white text in case you don't want to cheat. Just highlight the line to see the answer.) The filmmakers clearly went to great lengths to create monster fraternities and sororities and populate them with a wide variety of new monsters. More or similar effort should have been spent on the main characters and the plot to take it to the next level rather than just an average, good Pixar film.
Buddies and coworkers from Monsters, Inc. Mike Wazowski (voiced by Billy Crystal) and James P. "Sulley" Sullivan (John Goodman) didn't actually start out as friends in college. Mike's goal is to become the best scarer ever, and Sulley thinks that he already is a great scarer because of the legacy of his relatives at the university and his fierce growl. Mike gets paired with the lizard-like Randy Boggs (Steve Buscemi) as a roommate, and he's annoyed with Sulley's attitude. Dean Hardscrabble (Helen Mirren) has it out for Mike and Sulley after an incident, so they need to prove themselves in the Scare Games to remain in the School of Scaring. Professor Knight (Alfred Molina) is an advocate for the guys, but he can only do so much. Mike and Sulley end up in the same frat and actually become friends as they struggle to beat the other frats and sororities.
Much emphasis is placed on the frats and sororities in Monsters University. Although that clearly belongs in such a film, I'm not sure that it should have been the focus. The sorority names/abbreviations include EEK, HSS and PNK. The frats include JOX, ROR and GRR. Mike and Sulley end up in Oozma Kappa (OK), which pretty much describes its other misfits/members. Don (Joel Murray) is an older student with a mustache who reminds me so much of the character Matt Foley the motivational speaker played by Chris Farley on Saturday Night Live. The two-headed creature combined of Terry (Dave Foley) and Terri (Sean Hayes) is a walking argument. Art (Charlie Day) is a purple creature with a head and two arms who likes to hang from things. Squishy (Peter Sohn) has confidence issues, so his mother Ms. Squibbles (Julia Sweeney at her best) tags along. You can pretty much write the plot yourself because it's obvious that Mike and Sulley will put their differences aside and come together to motivate their fellow nerds, uh, frat members to succeed at the Scare Games.
The voice work in Monsters University is hit or miss. There are lots of recognizable names in the cast; that doesn't mean that they create memorable or even identifiable characters. Crystal, Goodman, Buscemi, Mirren and Sweeney are the best. Other familiar voices include Aubrey Plaza, Tyler Labine, Nathan Fillion, Bobby Moynihan, Bonnie Hunt, John Krasinski and Bill Hader. Bob Peterson reprises Roz for a scene, and legends Frank Oz and Frank Welker even lend their voices. It wouldn't be a Pixar film without John Ratzenberger. His roles/cameos are to Pixar movies what Stan Lee is to Marvel superhero movies, and Ratzenberger doesn't break his streak of appearing in every Pixar film. While I'm talking about sound, I should mention the music by Randy Newman. He doesn't provide an iconic song like "You've Got a Friend in Me" from Toy Story. Instead, he livens the film with lots of marching band music and the fight song for the university.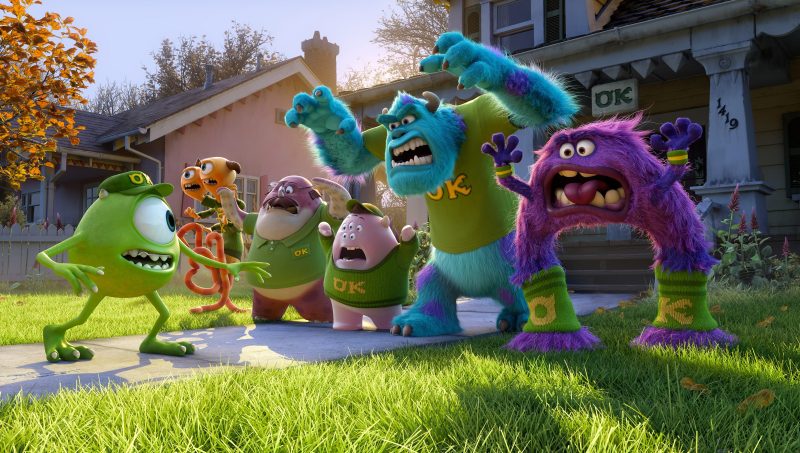 I will watch Monsters University again at some point to enjoy the detailed and colorful animation and creative characters. Dean Hardscrabble is a flying creature that combines elements of a dragon and a centipede. It's pretty impressive to watch her move throughout scenes and come in for a dramatic landing. Some of the best scenes to watch are outdoors with the student body on campus. I'm certain that I missed lots of details and characters. It just hits you like a whirlwind of colors and textures (fur, scales, etc.). The movie poster is a good example of this quality of animation. There are plenty of sight gags throughout Monsters University, so keep alert for the subtle jokes and signage.
There's a running, uh, slithering gag with a slug in a hurry to get to class at the start of the movie, and that's perhaps a good analogy for Monsters University itself. It's slow to get going as it indulges in backstory for its characters, but once it gets moving, progress comes quickly. I liked the step back in time to see Mike and Sulley in their youth. I wish that Mike didn't try so hard to be scary, which prevented Crystal from giving us more comedy. 3D doesn't add anything to the experience and, in fact, dulls the colors, so save the money and enjoy a traditional showing instead. (A short called The Blue Umbrella precedes the main feature. Director Saschka Unseld was an animator on Toy Story 3, Cars 2 and Brave. His short is not a good match for Monsters University because it's a little too somber in tone. The titular umbrella tries to find his way in the rain to a red umbrella in a combination of real-world scenes with animated ordinary objects (mailbox, downspout, etc.) that come to life and help along the love story.) There's no denying that Monsters University will wow you with its animation and exploration of the titular university. Sometimes less is more, and there's probably a better story that could have evolved in the same setting with the same characters.