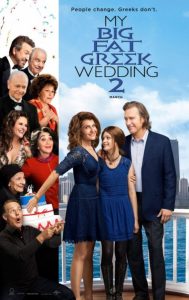 You never forget your first real kiss. I still distinctly remember mine, and it's been over 30 years. Similarly, you never forget the first time that you discover the excellence or unique skills of a filmmaker. Just like Christopher Nolan wowed us with Memento before getting even better with Inception and Interstellar, Nia Vardalos left a lasting impression with 2002's My Big Fat Greek Wedding. When you have a hit movie that big, it's daunting for you to even try to repeat that success. Sure enough, Vardalos avoided a sequel for many years until she felt that she had the right impetus for a reunion. I really loved the original film and remember that it was consistently funny throughout because of the perfect comedic timing and cast of wacky characters. I held out hope that Vardalos could deliver another fun comedy based on her life experiences. With uneven pacing and few laugh-out-loud moments, My Big Fat Greek Wedding 2 sadly feels more like a big fat disappointing sequel.
Vardalos once again wrote the script, but director Kirk Jones (writer/director of Waking Ned Devine and director of Nanny McPhee) takes the helm from the first film's Joel Zwick. The plot is less about the preparation for a wedding as in the original and more about the Portokalos family members whom we've come to know and love. Toula (Vardalos) and Ian (John Corbett) have reached a dead spot in their marriage where they're more worried about others, especially rebellious daughter Paris (the refreshing Elena Kampouris), instead of their relationship. Toula still works at her parents' Greek restaurant in Chicago, and all of the Portokaloses live on the same street. Toula's parents Gus (Michael Constantine) and Maria (Lainie Kazan) discover some information that affects their relationship. This subplot and Paris's struggles as a teenager trying to find herself and get into college are the focus of the film as all of the zany relatives offer their advice. Aunt Voula (Andrea Martin) is a fountain of knowledge, while Toula's energetic siblings Nikki (Gia Carides) and Nick (Louis Mandylor) are like rubber super balls bouncing all over the place. There's no doubt that the ouzo will flow and the celebrations will follow.
The most amazing element of the movie is that all of the main actors return for this sequel, even Bess Meisler as the almost speechless matriarch of the family. This gives the film consistency in casting even if the feel is more of a sitcom than a feature. Leads Vardalos, Corbett, Constantine and Kazan are all great here, and in certain scenes, they shine as they did before. Kampouris is sweet, quirky and memorable, and the focus on her embarrassment about her family and normal teen angst makes this more her story than anyone else's. Martin is hilarious in her character's lunacy, and Vardalos's real husband Ian Gomez (Cougar Town) also has his moments. Rob Riggle and Mark Margolis are nice additions to the cast in a few scenes, but some stunt casting with well-known Greek actors in small parts that amount to cameos are unnecessary and distracting. Weren't Maria Menounos and George Stephanopoulos available as well?
Comedy is difficult to get right. I'm so often frustrated when funny scenes show up in trailers because that ruins the surprise when you see the actual movie. Vardalos started her franchise as a one-woman theater show, so I'm sure that the timing that she developed on stage translated directly to the first film. Things are just off here. Funny moments are often followed by quiet or dramatic scenes to the point where I felt more pathos — that's a Greek word, Gus — than happiness. The best comedies keep you laughing from start to finish with breaks just to catch your breath. This is not that kind of movie. I was more amused overall than engaged. For example, it's almost expected that we get to see the characters using modern electronics like smartphones and computers and features like FaceTime. What should be comedy gold ends up merely eliciting a few chuckles. Maria and Voula discover a new way to take perfect pictures, but that gets old after a few mentions. On the other end of the spectrum, a manic scene in a hair salon is hilarious in every moment, and that's the kind of experience that I remember in watching the original movie.
Things really pick up in the last third of the movie. Even in that much-too-late rise in laughs, the most memorable scene in the entire film is a sweet montage of some of the couples in the film set against a John Legend hit. That sequence resonated with me and points to perhaps the origin of this story — Vardalos's experiences as a parent. When a touching, romantic part overshadows the comedy, your movie is imbalanced but not beyond recovery. With a number of dramatic transformations, there are parts that reminded me of The Princess Diaries, and those moments will take your breath away. Opa! I must admit that I was confused by the poster and trailer into thinking that Paris would be the bride in the titular wedding. Fortunately, that's not the case because of her age, so the featured wedding heads in a different direction as almost an afterthought or a punch line rather than a driving force.
Producers Tom Hanks and Rita Wilson made a smart decision when they went to see Vardalos perform her play and then backed her into taking it to the big screen. I'm still convinced that she can pull it all together and that lightning can strike again with these characters. If Vardalos catches the bug again in a few years, there are some logical places where a third film could go. I would challenge her to go completely off course and expand upon some aspects of the sequel to perhaps make My Big Fat Gay Greek Wedding. Until that happens, not even a brand-new bottle of Windex can spiff up My Big Fat Greek Wedding 2.