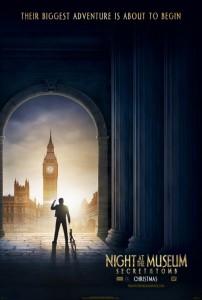 Potential tragedy looms for the magical occupants of a famed New York museum in Night at the Museum: Secret of the Tomb.
In the third installment of the series, museum security guard Larry Daley (Ben Stiller) returns with a new responsibility. His boss, Dr. McPhee (Ricky Gervais), has entrusted him to provide the "special effects" for the facility's most prominent events. Of course, McPhee doesn't realize that the effects are actually just the various displays from the museum itself brought to life through the mysterious power of one of its Egyptian artifacts — the tablet of Ahkmenrah.
The planned spectacle goes awry when the tablet suddenly begins to falter, threatening the museum's animated inhabitants. Ahkmenrah (Rami Malek) tells Larry that his father, the Egyptian Pharaoh Merenkahre (Ben Kingsley), can provide the answer behind the tablet's failure. Unfortunately, Merenkahre's remains are on display in a London museum. Desperate to keep the magic alive, Larry convinces his boss to send him, along with the tablet, to England in search of answers.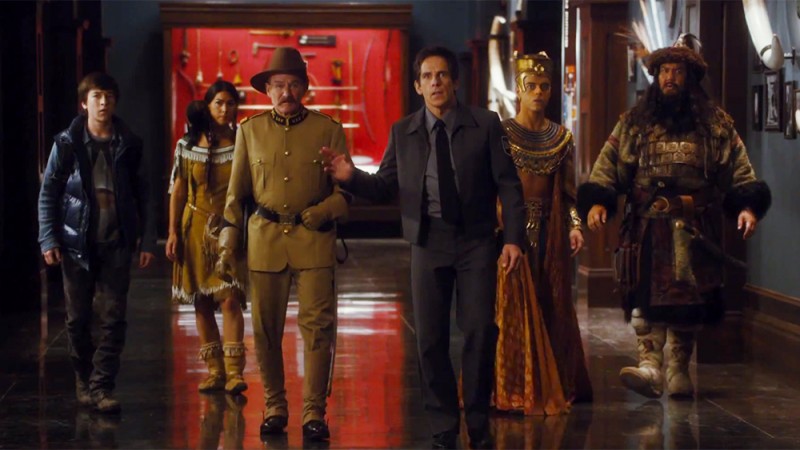 This seemingly final chapter in the Night at the Museum trilogy brings back nearly everyone from the first two films. Stiller and Gervais are joined by Robin Williams (Teddy Roosevelt), Mizuo Peck (Sacajawea), Owen Wilson (Jedidiah), Steve Coogan (Octavius) and more. There's also a brief cameo from the original now-retired security staff trio of Dick Van Dyke, Mickey Rooney and Bill Cobbs.
However, the third time is anything but a charm. There are some nice moments, along with a good laugh or two, but it's not enough to make it work as a whole. This time around, Stiller gets to play dual roles, and neither of them adds anything to the effort. His security guard character ran out of any purpose after the first film. The new character, a mentally-challenged caveman named Laaa, is every bit as dull as his supposed intellect.
Amazingly, the best scenes belong to Wilson and Coogan. Both rise above their diminutive stature to finally deliver more genuine laughs than in the previous two entries. The most noteworthy thing about the film is that it goes down as Robin Williams's last on-screen appearance. His final scene with Stiller seems hauntingly prophetic while also managing to be profoundly touching. Roosevelt's good-bye speech to Larry brought tears to my eyes while a notable hush descended on the rest of the audience. Yes, Williams deserves better than to have this be his final film, but as it is, it's quite something to behold.
As for the rest of the story, it's time to close the sarcophagus, box it all up and move it back into storage… permanently.