I ended up seeing Nowhere Boy—a biopic on John Lennon that takes us from childhood to his departure for Hamburg where The Beatles honed the skills that soon after brought them to the iconic fame we're all familiar with.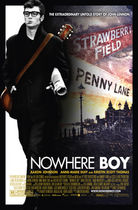 The movie delivers in just the way I think a solid biopic must. It presents a compelling, believable story that infuses the audience with details they most likely didn't previously know. I've read a lot about Lennon and much of the information here felt new or at least freshly presented.
Much of it is standard teen upheaval in nature but it takes on a new dimension when cast against the backdrop of Lennon's formation. His life was certainly a curious one and here we can clearly see the ingredients that came together to provide for the final product.
We're there as he comes to grips with the realities of having been originally unwanted. We see the tug of war between the two strongest women in his life and the real reasons behind complicated upbringing. We also are let in on the impact it had then and for the rest of his life. We also get to meet the characters in his past that have, to this point, been little more than minor references and footnotes in other interviews and commentaries. John was famous for talking about being raised by his "auntie" but rarely said much about her with respect to details.
I will say that if Paul McCartney sees the film he won't be very happy with the casting choice here. The stark contrast between the dominating Lennon and the paper-thin, frail, feminine actor that plays McCartney paints a different paradigm than the one I've been previously led to believe.
That's a minor issue really and doesn't detract much at all from the solid effort presented here. My biggest question is if anyone really cares any longer. While The Beatles music has found lots of new, younger, fans most of those fans really don't have much interest in the minute details of the backstory. As good as the film is I doubt very many will see it. For those that do stick around for the end as it includes some wonderful images of the real Lennon and the rest. One of the best things about the film is the long list of great songs from the era to make it into the film. Just don't expect Beatles numbers as this is about the story before all of that.