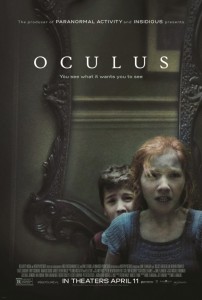 Two siblings, scarred by strange circumstances that resulted in the death of their parents years earlier, return to the scene of the crime in Oculus.
A decade ago, Kaylie Russell (Karen Gillan) and Tim Russell (Brenton Thwaites) endured the wrath of their increasingly unstable and dangerous parents (Katee Sackhoff and Rory Cochrane). One fateful evening, both of them were violently killed, and young Tim was sent to prison for their murder. Kaylie, however, has always known that Tim wasn't responsible. She's come to understand that a supernatural ornate mirror, with a very disturbing history, was the true culprit. She convinces the recently released Tim to join her at the house where it all happened. Kaylie's devised a plan to prove Tim's innocence and to deal with the evil forces once and for all.
The power of the film comes from a creative technique that seamlessly intertwines flashbacks with the current day to tell essentially two stories at once. The flashback shows us the growing terror that the entire Russell clan endured while, at the same time, the older siblings recall and retrace many of the very same steps from a decade before. Camera shots often move from one era to the next even in the simplest of scenes. The older Kaylie walks through a doorway and emerges on the other side as her younger self. In fact, the effect is so smooth that the viewer often isn't immediately sure which time frame they're in.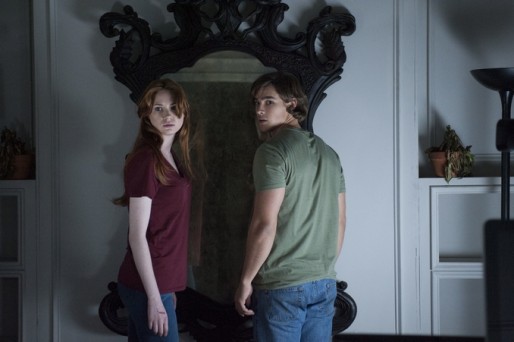 The impact of the technique is evident throughout. Everything about the tension is doubled. We're on edge simultaneously from two distinct but related stories. There's never a moment's rest. The shock and realizations of the past immediately add to the apprehension of the current day — and vice versa.
The story isn't quite as tightly wound as the rest of the film. Several actions, in typical horror fashion, defy any modicum of common sense. The simplest of solutions are, of course, entirely overlooked or simply dismissed out of hand. I can live with that. What I cannot understand is how the same people who employed such an amazing plot device could also be responsible for relying on one of the cheapest, sell-out gimmicks possible in a horror film. The mirror's power is that it can affect the perception of those around it. The problem is that nothing — and I mean absolutely nothing — you see on screen can ever be taken at face value. One harrowing scene after another is revealed to be nothing more than fantasy. We're pushed up to the precipice of the hill only to roll back down to where we started. The climactic scene is the biggest fatality.
Like the proverbial bad apple, this one misstep ruins all the rest. An oculus is a round opening. For this film, the round opening most befitting it is a large, deep trash can.