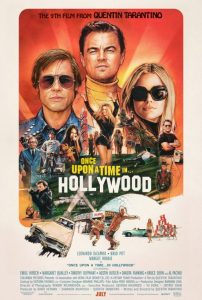 An insecure actor and his long-suffering stunt double become entangled with history in Once Upon a Time… in Hollywood.
Rick Dalton (Leonardo DiCaprio) used to be somebody. He was once the lead star in a popular TV western in the 1950s. Now, a decade later, both his life and career seem stuck in idle when a smarmy producer (Al Pacino) comes calling. The producer wants him to relocate to Italy to star in a series of spaghetti westerns. Dalton's unsure of the move and instead puts his effort into the role of the bad guy in a new TV western, but the seeds of doubt soon take root. His best friend and onetime stunt double, Cliff Booth (Brad Pitt), makes a meager living as Dalton's full-time jack-of-all-trades. When Rick's on a shoot, Cliff heads all over town handling whatever errands that Rick needs addressed. On one such trip, Cliff picks up a comely young hippie with whom he's been flirting from afar. Their destination is the last place where Cliff ever expected to end up. The impact of their journey carries with it deeper consequences than either of them could have predicted.
Writer/director Quentin Tarantino brings us a fairy tale that's quite a bit different from the rest of his work. This time around, we get a twisted homage to slain actress Sharon Tate. She was one of five victims of the Manson Family murders that took place one late night in August 1969. Rick and Cliff are fictional characters whom Tarantino seamlessly weaves into the narrative of this infamous event. There's just one major problem with the whole affair: it's morbid.
The work itself is technically typical Tarantino in that it's unquestionably impeccable. Every shot is carefully thought out. Every line is perfectly delivered. The soundtrack is Oscar worthy. However, the topic is just wrong in so many ways. The first hour carries us willingly forward. Then we realize where it's all headed, and the steam builds, but not in a good way. We're left to think about the real massacre that took place and Tarantino's penchant for unrestrained gore. It's impossible not to think, "Will he or won't he?" That's not from where a film's tension should be emanating, and it taints everything that comes after. Tate is played by the always-reliable Margot Robbie, and Tarantino handles all of her scenes with absolute care. When we see the real actress in film clips, it's actually her and not a pasted-in Robbie. The kid gloves show respect, but the right move would have been to leave this story to history.
The film is also overly long, spending far too much time showcasing full, laborious scenes from Rick's career. We don't come to a Tarantino film to watch a lot of bad TV, but that's what's on the menu.
We also get more cameos than virtually any other Tarantino film. Famous faces show up with the rapidity of targets in a game of whack-a-mole. His trademark carnage makes its debut at the conclusion of the final act, and it almost makes the rest of the journey worth it, but not quite. I love a film that makes me feel. I don't like a film that unnecessarily makes me feel dirty and bored.