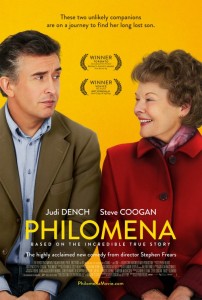 A elderly woman and a stodgy former government adviser join forces to track down the son she gave up for adoption years before in Philomena.
In the 1950s, a young woman in Ireland let herself experience a moment of carnal joy, only to find herself pregnant, alone and ostracized. Social tenets of the day drove Philomena Lee (Judi Dench) to join a local convent. Upon giving birth, she was forced to sign over her parental rights, but she stayed on as an indentured servant. There she was given little access to the boy until he was finally adopted at the age of three. Philomena kept this part of her life a secret for the next 50 years until she finally broke down and told the story to her daughter.
As luck would have it, the daughter attended an event where she met journalist Martin Sixsmith (Steve Coogan), who just happened to be in need of a new gig. Martin sells the idea to an editor and convinces Philomena to let him write about the search for her long-lost son. The journey would have a bigger impact on both of them in ways they never anticipated.
Philomena was a simple woman from very modest means. Like most native Irish of the day, she was also devoutly Catholic. For her, this represented the chance to finally confront the memory that had haunted her these last decades. What had become of her boy? Did he think about her? Did he think about Ireland? Martin, on the other hand, was almost her complete opposite. He grew up fairly well off, went to Oxford and was bluntly atheist. He saw the task as little more than a new venture while tolerating his less-cultured meal ticket.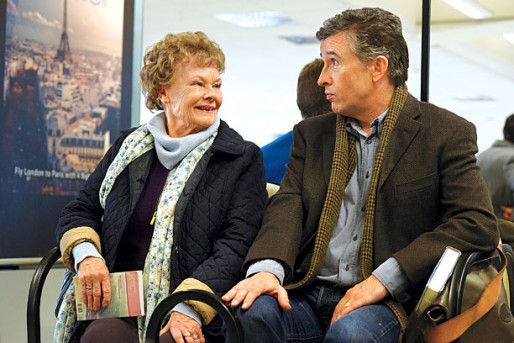 This is a curious movie that seamlessly transforms itself from a mild, but effective, comedy into a poignant, heart-felt drama. None of it would work without the wonderful performances of its two stars. While Dench has played a slew of polished and strong women in her career, this role represents a bit of a departure, and it's one she delivers with absolute effectiveness. Every glance, every stare, every movement feels genuine. Coogan, meanwhile, seems entirely at home in Martin's shoes and serves as the perfect foil for Dench's more priceless moments.
In the end, it's a film that takes a very hard line on the church's policies of that era, but it does so in a very measured manner. We get to see firsthand just how resilient faith can be when it's tested and the acceptance of the outcome. The story is good, but it's the performances that make it worth the price of admission.