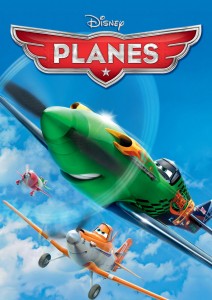 Some sequels are logical extensions of other properties. Think of how the X-Men movies led to the Wolverine films. Planes is also an offshoot of another popular property. Billed as "From above the World of Cars," it does truly concentrate on the aerial citizens of that universe. That doesn't limit the characters to those of the airborne variety. There are plenty of their four-wheeled friends around to help out. What's a bit strange is that Cars is a Pixar creation and Planes is not. It comes from DisneyToon Studios, a production house within Disney mostly known for direct-to-video releases like Tarzan II and Cinderella III: A Twist in Time. (Other sequels like these movies inspired a really funny Saturday Night Live fake ad about the "Disney vault.") I was surprised that Planes lived up to the film I imagined going into the theater. In many ways, Planes is a rehash of the basic plot of Cars, yet it still adds enough new elements to stand out from its Pixar cousin.
Director Klay Hall also directed DisneyToon movie Tinker Bell and the Lost Treasure (2009) and episodes of King of the Hill, Father of the Pride and The Simpsons. Writer Jeffrey M. Howard also wrote DisneyToon movies Tinker Bell (2008), Tinker Bell and the Great Fairy Rescue (2010) and Pixie Hollow Games (2011). Fortunately, both of these guys got away from Tinker Bell for a while! Planes is the first theatrical release for DisneyToon Studios since 2005's Pooh's Huffalump Movie. People are likely going to make the same Pixar connection that some of my friends have already made. The film looks like Cars and actually has the feel of Cars with its underdog story, so for many people, this film will takes its place right alongside that series. It fits nicely, too, but I would hate for Disney to dilute things to the point where we have Boats, Scooters or even Segways. Planes: Fire & Rescue is already on the way later this year, so you won't have to wait too long to get another taste of this world.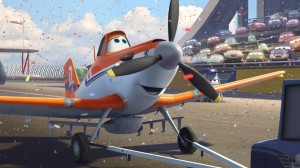 Dusty Crophopper (voiced by Dane Cook) is, of course, a crop duster who spends his days going back and forth along straight lines in fields with his buddy Leadbottom (Cedric the Entertainer). Dusty and Leadbottom live in Propwash Junction along with the other characters like Dottie the forklift (Teri Hatcher) and Chug the fuel truck (Brad Garrett). Dusty dreams of flying high and fast with planes of a different type entirely. There are only two problems: he has no experience flying like that, and he's afraid of heights. He manages to get himself into a qualifying race for the Wings Around the Globe rally, so the story and main characters leave Propwash Junction for a trip around the world with new competitors to challenge Dusty along the way. Fortunately, Dusty convinces a reclusive old Navy Corsair named Skipper (Stacy Keach) to train him for this race with multiple legs. The training still doesn't make Dusty feel comfortable at any great height, so he chugs along in some legs flying close to the ground.
I was impressed with the collection of characters and the voice talent that bring them to life in Planes. Most of the actors establish memorable roles; only Julia Louis-Dreyfus doesn't deliver her best work with her French-Canadian accent as Canadian racer Rochelle. Priyanka Chopra does a good job as Indian plane Ishani, and Roger Craig Smith is nasty as major competitor Ripslinger. John Cleese is a delight as British plane Bulldog, who delivers the line, "I don't cry. I'm British." Carlos Alazraqui steals every scene as Mexico's race entry El Chupacabra. He even goes so far as to serenade a potential girlfriend. Sinbad plays race official Roper, and Brent Musburger shows that he has a sense of humor to poke fun at himself as announcer Brent Mustangburger. Anthony Edwards and Val Kilmer tip their wings to Top Gun as a pair of jet fighters, and John Ratzenberger voices a character in one scene to keep his streak of appearing in every Pixar movie going even though this isn't one of them. The connection to Cars must have been good enough, or he otherwise missed the memo.
All of the great characters in the world would have no impact without the animation to go with it. Fortunately, the scenery and effects are up to the level you would expect in today's animated films. Humor is injected throughout, whether through visual puns and messages in the background or established jokes from the Cars movies like the tractors who are really the cows in this world. In a way, the scenes are even more exciting than earthbound films like Cars because the characters can swoosh around at will and go even faster because of the race. Even so, the film really doesn't benefit at all from the 3D format, so avoid the 3D for this one and enjoy the bright, beautiful colors instead. The scenery is varied and worth the trip to the theater to jet around the world with the airplanes and their friends. Planes does a great job in both expanding the Cars world and establishing its own, so the sequel can only add to both of those missions with a different set of characters and its plot about first responders. Until then, "lugnut up," as one of the characters says, and check out Planes for some high-flying fun that takes place above the world of — but doesn't quite surpass the quality of — Cars.