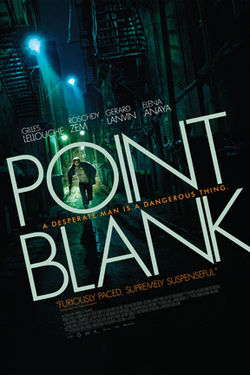 In what seems to amount to a rare situation this year I managed to catch two films this holiday weekend. I've had countless barriers this year to catching more films but the most striking one has been that I just haven't felt very interested in much of what's been put forth so far and with less than four months to go for 2011 that doesn't bode too well for a strong movie showing.
The first film is from France entitled Point Blank. It's best described as an action/thriller but it plays the balance between both genres pretty effectively.
Every character we meet seems to drip personality. The good guy is exactly the guy you'd want to be with should you find yourself in a dark alley late at night, and the bad guys are exactly the types you wouldn't want to find in said dark alley. The top two bad guys are most notable and played by Roschdy Zem and Gérard Lanvin. Trust me, you'll have absolutely no trouble identifying them as bad all the way to the core.
The general feeling of the film is best summed up as energetic. It's a very solid roller coaster experience in both the ups and the downs. We get a chance to breathe and to take in the deeper story and characterizations and it helps to make this a wild but rewarding ride. A few times the pace did get to be a bit frenetic so it helps to make sure you're paying attention lest you miss a key point along the way.
On the down side it is a bit predictable in a few areas and, at least for me, it seemed to have one huge plot hole towards the middle of the film that no one I saw it with could offset easily. Thankfully I seemed to be the only one that picked up on it so clearly it's not that big a deal.
One oddity is that while everyone involved is well-cast, I couldn't help notice that virtually every single French actress involved was clearly a member of the more beautiful people among us. Maybe it's just a French thing. Of course it does nothing to impact the enjoyment of the film and it's one you should sit back and let just happen to you. I suspect a nice glass of wine and some good cheese wouldn't hurt either.