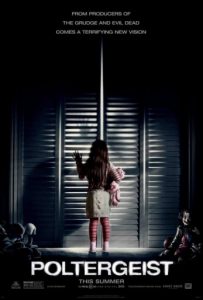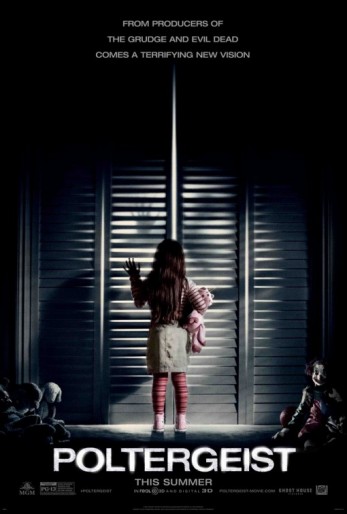 Certain movies and scenes stay with you forever. That's the power of the moving image on our impressionable minds. I feel conflicted when someone remakes an iconic movie because I don't want to taint my memories of the original with variations of scenes or new people in the same situations. The 2015 Poltergeist brings up these issues. Sure, there are generations of younger moviegoers who never saw the original. For them, this might be their version. I'd sooner hand them the original and spare us the inferior experience. That all said, I was pleasantly surprised by this new movie. Poltergeist is entertaining and occasionally scary, but it's ultimately unnecessary.
The plot of this modern Poltergeist is really the same as the original. Only the cast and the advances in special effects have changed. Director Gil Kenan previously directed only City of Ember and Monster House, but he manages to pull off a masterful feat by making this flick watchable. Writer David Lindsay-Abaire previously adapted Rise of the Guardians and Inkheart from other source material, so this was no stretch for him other than the challenge of somehow adding new aspects to the story. The Bowen family moves to a new development in Illinois. Amy (Rosemarie DeWitt) is an aspiring writer, while Eric (Sam Rockwell) just lost his job at John Deere's corporate office. The three kids include teenage, cell phone-obsessed Kendra (Saxon Sharbino of Touch), nervous Griffin (Kyle Catlett of The Following) and adorable Madison/"Maddy" (Kennedi Clements in her first feature film role). As mysterious events begin to happen (blinking lights, etc.), each family member reacts differently until they all become united against hostile spirits when Maddy gets taken by them into another dimension.
Rockwell and DeWitt make a nice couple here. Rockwell really showed up on my radar with Confessions of a Dangerous Mind, and he continued to impress me, including his tour de force performance in Moon. DeWitt has a history in smaller films like Rachel Getting Married and Your Sister's Sister, so it's nice to see her in a bigger role. The child actors also make the whole thing believable, but for this film, it all comes down to the little girl at the heart of the abduction. Clements is brunette instead of the blonde Heather O'Rourke from the original. That was a conscious decision by the filmmakers, perhaps to distance the remake from the 1982 classic. Clements pulls it off because she exudes cuteness and curiosity and has chubby little cheeks to boot. Plus, she gets to spout the two most important lines in the film. I liked this movie family, and that made me root for them all the more.
The familiar aspects of the plot are tense and exciting. The scenes with Griffin and some toy clowns that he discovers in his bedroom closet kept me on the edge of my seat. A sequence with tree branches poking threateningly against Griffin's skylight leads to even greater dangers. Most of what works here involves special effects mixed appropriately with physical effects. Although the other dimension and the ghosts in them are presented with the best computer graphics that money can buy, this isn't as important as the things that happen within the house itself to the family members. I was worried that Kenan would rely too heavily on the full-screen CGI work to make this film stand out. Fortunately, these sequences are limited and not as crucial to the plot as the rumblings in the house.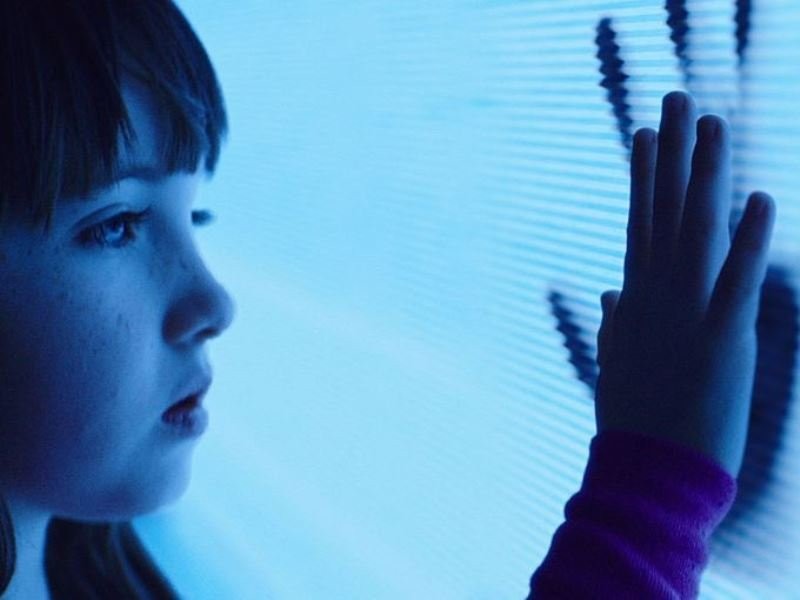 Poltergeist is not entirely a retread of the original. The filmmakers tried to modernize it a bit by introducing iPhones and flat-screen TVs. As much as I like Jane Adams, her appearance as a paranormal investigator didn't convince me. The biggest misstep is the inclusion of Jared Harris as a TV personality named Carrigan Burke, the host of a show called Haunted House Cleaners. He goes into people's homes to scare away spirits, so he's a resource for the Bowens when nothing else seems to work. Daughter Kendra loves this show, so when Burke shows up, the film takes on a bit of the feel of Fright Night with a TV host assisting a fan with supernatural problems. Burke is sort of witty, and his humor lightens the mood when it should be getting more intense. Most of all, Harris's jokey performance made me yearn for the crucial role played by Zelda Rubinstein in the original film and its sequels as a creepy, unsettling medium and psychic who brought a goofy kind of gravitas to the role.
If there's one sequence that just doesn't make sense anymore, it's the one in which Maddy stares at the white noise on a TV and senses beings in the TV reaching out to claim her from the other dimension. Back in 1982, TV stations still went off the air in the middle of the night and displayed static or white noise when you tuned to them or other channels that didn't have broadcast signals. Modern TVs don't experience that phenomenon. If there's a signal, you see something; if there's no signal or broadcast, it's typically just a black screen. Maybe I'm thinking too much about it, but it seems to me that they had to go to great lengths to reproduce the most memorable scene from the first movie only to have it no longer carry the same weight. If you stared at white noise just for fun, you'd swear that you saw certain images or shapes, and that concept inspired the television sessions with the spirits.
Just like a superfluous remake in 2013 of Carrie, this is one that you can skip if you don't want to sully the memories you have of Rubinstein in her squeaky voice telling little Carol Anne to go into the light. Those afraid of clowns should probably avoid it, too. You could do much worse at the local multiplex than a well-made update, and horror films are almost always better with friends, even if they're bad. There are plenty of original ideas out there for ways to scare an audience, so filmmakers should turn off the TVs, stay out of the closets and find other ways for spirits to stalk little girls.