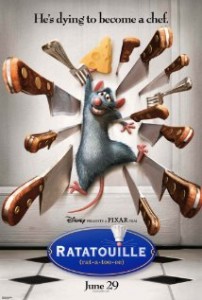 The next movie on the slate is the new Disney/Pixar film Ratatouille. I had seen nothing but wonderful reviews for this movie and due to this I also expected that I'd be disappointed. I find that when everyone loves a movie, I am left disappointed so now I go into such movies with skepticism. This entry from Pixar started off with a fairly funny short called Lifted that was nominated for an Oscar. The interesting part is that it's pretty clear that the perpetually sleeping human in the short is the main human character from Ratatouille.
This movie is quite different from past Pixar efforts. It feels, from very early on, like a project right out of classic Disney. The look is purely Pixar but the story, emotions and ambiance are all Disney. I couldn't help but think of Disney's past classics like Lady and the Tramp. It's an amazing thing to be able to take rats and manage to get the audience sympathetic to their plight. Ratatouille isn't filled with back-to-back laughing. It's not that kind of movie. It's much more a heartwarming story filled with can-do morality and well-done sweet, touching and romantic moments.
The story surprisingly works. The voice talent is solid. It does not benefit from a memorable soundtrack and does get a bit slow in a one or two spots.
In the end I think it will do alright and I liked it more than both Cars and The Incredibles and about as much as Monsters, Inc. but still can't put it in the league of Finding Nemo or Toy Story.