I was looking for something a with a bit of a driving pulse and that brings me to Red. It boasts a cadre of capable stars in Bruce Willis, Mary-Louise Parker, John Malkovich, Helen Mirren and Morgan Freeman.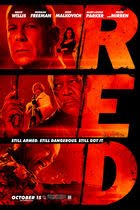 The opening credits included a logo for DC Comics suggesting this story is taken from an existing comic but if so I wasn't aware of it previously and when the logo appeared I heard others in the audience asking the same question.
The basics involve Bruce Willis who seems like a typical mild-mannered older guy going about his curious daily business when suddenly people show up trying to kill him. It's then we find out he's a retired spy with a very decorated background and extensive skills and contacts. The way in which he goes about easily dispatching highly trained experts immediately sets the tone for the film as one that doesn't take itself too seriously while, at the same time, letting everyone know they're in for a wild ride.
The movie does a great job of presenting an amalgam of the best of Die Hard, the Bond films and Mission Impossible. It's got the intrigue, the action and the perfect touch of humor. It's simply a great experience from start to finish. Seeing Helen Mirren go from a sexy, vulnerable senior to manning a 50-caliber mounted machine gun and back again was worth the price of admission alone. Malkovich goes about stealing the show in every scene he's in and Parker somehow manages to hold her own capably in a role that could have easily had her disappearing into the background.
The part that caught me off-guard was the story. I didn't expect it to really try to bother doing much that providing a basic plot and yet I found it all entirely engaging. The subplots for each of the main characters are all fairly interesting. The setup left little doubt as to the hopes of the studio to be able to give this a sequel or two.
I found the look, the music, the style and the acting to all be spot-on. It's not something that will go down as a great movie but it's certainly in the same fun league as the films mentioned above. The only downside I had with the entire movie was realizing just how old each of the stars are now. John Malkovich can't be old. It just shouldn't be allowed.