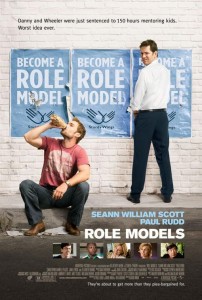 We just saw the comedy Role Models starring Paul Rudd, Seann William Scott and, in another seemingly time-defying credit, Elizabeth Banks. This is another in a seemingly viral expansion of Judd Apatow-like comedies that aren't from Mr. Apatow (and it usually shows).
I'm beginning to think that we're seeing the start of a new click ala the 80s Brat Pack. The earlier incarnation fascinated many with a bevy of 80s hits including a few that still resonate today. It included the likes of Demi Moore (pre-breast job), Rob Lowe (pre-sex scandal), Ally Sheedy, Emilio Estevez, Molly Ringwald, Anthony Michael Hall, Andrew McCarthy and Judd Nelson. That group brought us essentially a dozen interlinked movies of various degrees of quality.
Role Models gives us Apatow-like alums Rudd, Banks, Christopher Mintz-Plasse, Jane Lynch, Ken Jeong, Joe Lo Truglio and possibly a hundred others for all I know. On the plus side it did spare me from perennial alum Michael Cera failing to play another straight guy.
Role Models is very standard comedy fare. This one is mainly Rudd's baby and he's just not in the same league as Apatow or a few of the other alums that took the scripting journey before him. It is full of laughs but they're pretty crass and predictable. The story doesn't really seem to exist except to lead us to the next joke. It's all pretty unbelievable and you never really care a bit about anyone here.
If you've had a hard day and need something primal that will make you laugh but won't make any demands on your head then this is the movie for you. It will make you laugh but you won't remember what it was you laughed at an hour after seeing the movie.
Why I Wanted To See It:
Very little else playing at the time.
Preconceived Notions:
Looked potentially funny but reservedly so.
During The Movie:
More Apatow-alumni. Funny but erratic.
Immediate Afterthoughts:
Could have been better. Paul Rudd has to see this as a bit of a let-down.