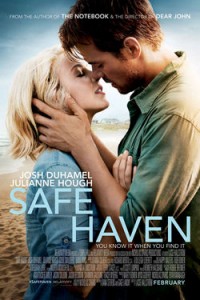 I wish that I had a winning formula for anything — perhaps video game design or writing — that would produce money at a regular rate with different versions of that same formula. Nicholas Sparks seems to have a knack for writing romantic dramas that get turned into movies starring pretty actors kissing in the rain. Some of these films are actually quite good. I really liked The Notebook and would have liked Dear John better without Channing Tatum. Safe Haven follows the same Sparks formula of strangers falling for each other and overcoming odds to maintain the romance, but I felt cheated at the end with an unnecessary twist that I promise not to ruin for you.
Director Lasse Hallstrom previously directed Dear John and more recently Salmon Fishing in the Yemen. Writers Leslie Bohem (cowriter of The Alamo) and Dana Stevens (writer of For Love of the Game) adapt the Sparks novel and probably did a fine job of that because the resultant movie has that right blend of romance and drama that works well. If there's any fault at all with the plot and final film, I'd bet that it's not a result of anything that the filmmakers did. Sparks might have just pushed his formula a bit too much this time.
The story is actually pretty simple, so the energy comes from the slow-burning romance. Katie (Julianne Hough) runs away from a bad situation in Boston as a brunette and emerges from a bus in Southport, North Carolina, as a blonde. She kind of likes the ocean and boats, so she decides to stay. She's already caught the eye of general store owner Alex (Josh Duhamel), a widower with standoffish son Josh (Noah Lomax) and adorable daughter Lexie (Mimi Kirkland). Alex works the store with Roger (Red West), and something lights up inside him when Katie gets a job at the local restaurant and rents a remote house in the woods. Katie doesn't let on what drove her away from Boston, but a police detective named Tierney (David Lyons of The Cape and Revolution) does everything in his power to find her. Neighbor Jo (Cobie Smulders) is happy that Katie has moved in down the dirt path from her and visits her every now and then.
Films like this only work if there are sparks — pun fully intended — between its leads. Hough is much easier to take here than in that awful Rock of Ages where she sang like a chipmunk. Duhamel fits his role nicely, so the awkward moments between Katie and Alex that lead to the eventual kissing and wide smiles are believable and cute. Kirkland steals every scene she's in, so she's perfectly cast. I didn't think that Lyons was effective here. His detective is more committed and misguided than Javert in Les Miserables, so he turns into a caricature. In fact, a cape and a twirly moustache would complete the physical transformation into a cartoon villain. Nevertheless, this film is about the journey, and it takes its momentum and cues from its Southern location and the sleepy seaside town.
The music and songs on the soundtrack don't distract as much as I expected they would. The story serves as the focus, and this is a good date movie for all but the most hard-hearted. There are some wonderful shots near the ocean and a scene where Katie and Alex take a canoe down a river that looks like it's from a painting. Romance abounds, and the final third of the film really puts it to the test as the truth behind Katie's past emerges on the Fourth of July. Safe Haven works on its own without the silly twist to try to evoke tears. Some people will like it, but I would have preferred this film stirred not shaken.