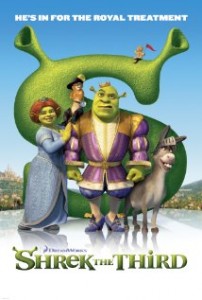 I can't even recall large swaths of Shrek the Third and I just saw it Friday night. It was totally forgettable.
I don't know that much could have been done about it as this story really was about the uniqueness of it all. Once that was gone, there really wasn't any point.
This one felt like it should have been released direct to video. I started to type the number of times I recall laughing and now have to edit that to say I don't recall laughing even once. A smile and possibly a light chuckle here and there is all I could conjure up.
I'm hoping this is the last we hear of Shrek, at least as a full motion picture — but I have real, dark doubts.