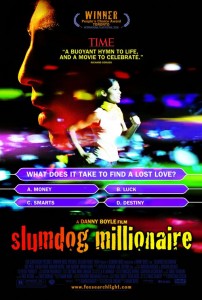 I'm currently on a business trip to Sin City—aka Las Vegas—to attend this year's 2009 CES (Consumer Electronics Show). I haven't been to Vegas in a number of years now after having been here countless times in the past. It lost its allure long ago for me. We have gambling in Atlantic City and that's really what Vegas is about. It's just painted with more artistic strokes here. Speaking of strokes, the one thing that hasn't changed a bit is the ability of the sex trade to ply their marketing on nearly every street corner in the form of questionable citizens trying to hand you cards with the names of dozens of strippers and more.
Thankfully many other things here have changed. It's easier to get cut-rate tickets to shows but I still really don't care for most of them (though I finally did see the Titanic Artifacts Exhibit which now is "permanently" on display—for 10 years—at the Luxor). Instead I went to the movies. This time it was to see the Bollywood film Slumdog Millionaire. While this is a foreign film the dialogue is in English for the most part so don't let that concern keep you from seeing it.
This is the story of a young man, Jamal, who gets the chance to play the Indian version of Who Wants To Be A Millionaire. When he gets to within one question of the big prize the time runs out on both that episode and, possibly, his good luck. He's taken into "custody" and accused of cheating. You see, Jamal comes from the slums. There's no way a "slumdog" can possibly know the answers to these questions, or at least that's the view of some behind the show.
The story focuses on Jamal having to defend his unusual ability. This is done with flashbacks into his formative years and the various experiences that build the foundation for the life of a slumdog. From this comes realization and understanding for the authorities and the audience.
The biggest problem I had with the movie is the show itself. If these are the hardest questions I'm surprised everyone in India isn't a millionaire. Don't get me wrong—I didn't know most of the answers but they're Indian in nature and most of them deal with major popular culture that could be easily known.
The other problem I had dealt with a cell phone scene. Why doesn't Jamal just call back? Anyone who sees the movie will know what I mean. Those who haven't won't know the relevance until they see it.
In the end this is a very well done movie. It's touching. It gives us some real insight into the undercurrent of life in Mumbai (previously Bombay). However, I don't see why it's being touted as a possible best picture contender.
Why I Wanted To See It:
Lots of Oscar talk. It's on quite a number of reviewers "Best of 2008" list.
Preconceived Notions:
Bollywood films often include lots of impromptu singing and dancing. Would this be the same?
During The Movie:
At least there's no impromptu singing and dancing. How can a show get away with this?
Immediate Afterthoughts:
Oops. Singing and dancing during the credits. I knew they couldn't contain themselves. I don't get all the Oscar talk. It was good but not great. Worth seeing for sure.