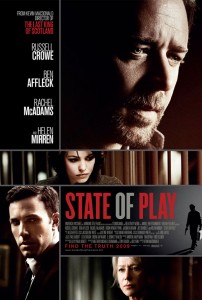 The next movie on my hit list is State of Play. This is a fairly forgettable, and yet solid, effort featuring an all-star cast including Russell Crowe, Ben Affleck, Rachel McAdams, Helen Mirren and Robin Wright Penn.
The film focuses in the rising career of a young congressman (Affleck) and a time-worn investigative journalist (Crowe) who are brought together by a series of "seemingly" unrelated murders. I quote seemingly because very little in this story is surprising even though that's supposed to be its big draw. In fact, one of the main plot points flat out doesn't seem to work at the end as Affleck's character appears to act at odds with his own motivations.
In a bit of a surprise, Helen Mirren fares poorly here. She just doesn't do a very good job at portraying the editor-in-chief of a Washington Post-like paper. The rest of the cast does a good job though.
The story itself just feels incomplete, rushed and disjointed. We don't find out enough about the back stories of the main characters. Their actions may or may not fit their personalities but we can't be sure. We're never sure, for example, if Crowe's character is past his prime or indifferent because of the bad economics of print media. Too much is left to total interpretation and sheer guessing. And entire plotline involving Robin Wright Penn feels completely unnecessary.
Yet for all these problems the movie still manages to keep your attention. You keep thinking it's going to be worth the pay-off and that says a lot about the stars driving it. In the end it doesn't give that pay-off but it's still not a wasted experience. This will probably be a popular rental for a while.