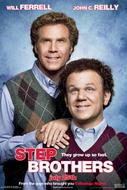 Friday brought me back to the local theater to see Step Brothers. It's the latest film from Judd Apatow starring Will Ferrell and John C. Reilly. As I've mentioned before, I've had some pretty good luck with past Apatow films. They can be silly but they're usually good for some dependable laughs and a decent story.
Not so here. First, the previews are misleading. This isn't an Apatow film. It's from some of the same people responsible for past Apatow films but Judd wasn't at the head of this one and it shows. The main problem is that this effort has all the elements I despise from both Ferrell and Reilly and that's when they both act ridiculously over-the-top. That's pretty much the entire film. It's not even really sophomoric. It's just dumb.
Step Brothers has some funny moments, including a few that are really hilarious, but it mostly falls flat. The jokes feel like disjointed skits tossed together in almost random fashion. Add to this an underlying story that's both weak and entirely unbelievable. You just can't put it out of your mind long enough to enjoy the shenanigans. The parents of the "boys", Mary Steenburgen and Richard Jenkins, do their best to fly above it but to no avail. If you'd enjoy watching the two stars have a pillow fight for 90 minutes than this might be your movie. I'd watch some of this on cable but I believe I'd even feel like I wasted that investment let alone spending over $9 to see it in a theater.