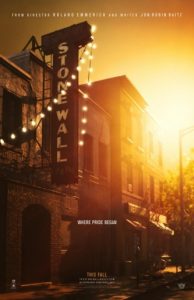 A major catalyst that culminated in the first Gay Pride parade is re-created in the painfully awkward film Stonewall.
The late 1960s marked an era of cultural upheaval in America. Socially ostracized groups of every type struggled to gain acceptance and equality, including the gay community of New York City. The epicenter of their efforts took place in a mob-owned Greenwich Village nightclub frequented by the community's most trivialized members. It was there, over the course of the first half of 1969, that its patrons found the courage to fight back against coordinated police raids, mental and physical abuse and countless other forms of blatant discrimination. Their pioneering steps opened the door for organized activism and the creation of the first Gay Pride march in June 1970.
Director Roland Emmerich (Independence Day, The Day After Tomorrow and 2012) steps away from his epic disaster film roots to give us a disaster of his own creation. The story starts a few months before the big event in June 1969. A book-smart high school senior, Danny Winters (Jeremy Irvine) is forced to leave home when his suburban community and family discover his sexual orientation. He heads to the one place where he envisions being accepted (New York City) and finds himself on Christopher Street in a neighborhood dominated by outlandishly forward gay men of every type. For Danny and his basic Midwestern upbringing, it's like hoping for a nice sunny day and instead finding yourself transported to the surface of the sun.
The look and feel of the film is ridiculously surreal from the outset. It gives the distinct impression of watching a mediocre Broadway musical adaptation without the music. Everything is melodramatic, with every character living on the fringes of personality extremes. There's no middle ground for any of them, with the exception of Danny's underutilized younger sister Phoebe (Joey King). The good guy (Danny) is downright angelic. The bad guy — Stonewall Inn owner Ed Murphy (Ron Perlman) — would stomp on a field full of butterflies and make the neighborhood children watch.
The preachy nature of the film's message is so overdone that I honestly believed this was some dystopian science fiction film for the first few minutes. Virtually every non-gay character is a raging homophobe. The very few that aren't are portrayed as weak or misguided. The plot is rife with huge logic issues and radical time shifts that leave the viewer frequently unsure of what's going on.
If you can last through all of the first hour's antics, the second half improves steadily, but it's not enough to stop us from wishing that we had our own brick to throw at the screen.