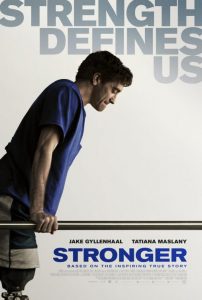 An unsuspecting spectator deals with the realities of losing his legs to a terrorist's bomb in Stronger.
In 2013, Jeff Bauman (Jake Gyllenhaal) thought that he'd surprise his on-again, off-again girlfriend (Tatiana Maslany) by showing up to support her at the latest running of the Boston Marathon. Unfortunately, his place in the crowd coincided with the exact location of one of the two bombs to go off that day. When it eventually exploded, it cost him not only both of his legs, but also quite possibly his entire future.
Jeff's life was pretty much ordinary in every possible way. When he wasn't working in the kitchen of his local Costco, he'd head to the local neighborhood bar to support his beloved Red Sox or Bruins, just like everyone else in town. None of us would be any better equipped than Jeff to deal with the unfathomable blow that fate had in store for him. This is a classic story of hard-fought triumph over breathtaking tragedy.
Jeff's journey is, no doubt, one filled with immeasurable sadness. The real challenge for such a film is if it can reach out to us in a way that inspires us. This dark, atmospheric retelling of Jeff's herculean efforts does engage us here and there, but it doesn't quite reach the bar of instilling inspiration. We want to be enveloped by it, but too many missteps keep us from ever getting close enough.
So where does it go wrong? Director David Gordon Green paints a picture that seems stuck on a single ominous note and a single dark, muted color. It's one long, gray, tedious slog. In an attempt to feel authentic, Green has everyone painted with the same overused "Boston Strong" brush. Everyone has a thick Boston accent (even though the real Jeff doesn't have one), lives in squalor, seems allergic to intellect, smokes, has to love all things Boston and seems genuinely unlikable. Why Hollywood thinks this is essential set dressing for any Boston story is a mystery. In other words, it comes off as entirely disingenuous. It doesn't help that the first 30-plus minutes of the film feel like a blatant, downright insulting commercial for Costco. Jeff's dedicated manager is there at every turn to provide everything that he needs, except when he quietly vanishes as things get really murky. We can't help but notice the Costco pharmacy bottle perfectly turned to highlight its bold logo during one critical close-up. Gyllenhaal's portrayal is also unnecessarily distracting. He plays the unlucky survivor as an awkward, peculiar person whom only a mother could love. We're much more interested in the only realistic character in the film — Jeff's guilt-ridden girlfriend, Erin Hurley. That can't possibly be what the producers set out to achieve.
Other similar films burned their way into our memory with searing efficacy like Coming Home and Born on the Fourth of July. Stronger is a decent effort, but just not quite robust enough to make a truly lasting impression.
Save