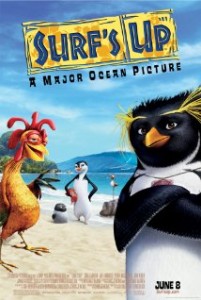 A teenage penguin looking to break into the pro surfing circuit is the focus of a documentary in the shallow pools of Surf's Up.
This is the story of Cody Maverick (voiced by Shia LaBeouf), a young rockhopper penguin trying to become the next big surfing star of Antarctica. The event of the season is the "Big Z Memorial" named for the land's legendary surfer — and Cody's childhood hero. At the event he meets, and immediately falls for the a beautiful lifeguard, Lani (Zooey Deschanel). When Cody is injured during a run Lani takes him to her Uncle Geek (Jeff Bridges), who takes the young penguin under his wing and shows him the ebbs and tides of master surfing.
Rarely do you see a film where there's virtually nothing about it worth recommending. This is the exception that proves the rule. It's not that it's a terrible movie — it's just that there's nothing really worthwhile in it to make it recommendable.
First there's this whole idea that penguins surf using boards. It's strange when you first see it and it never gets any less strange. It'd be one thing if this movie were an allegory using penguins to represent people, but the movie can't commit one way or the other. One moment they're firmly penguins while the next they're surfing, living in igloos and wearing jewelry. The movie wants it both ways and it just doesn't work.
The story is only occasionally interesting, and then only mildly so. The plot "twists" are so incredibly obvious that the result is boredom for all but the youngest of viewers. Even the underlying love story doesn't really go anywhere. Put it this way: I just saw the film and I'm still not even sure if the two lead characters end up together.
There are some laughs courtesy of a wiped-out chicken (Jon Heder) who steals what's available of the show to be stolen.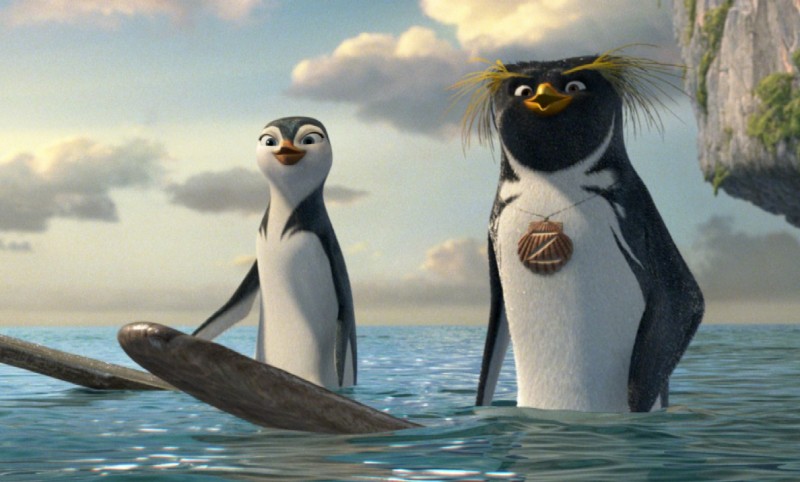 I will say that the best thing about the movie is the incredible leap forward in computer animation. The watery vistas look spectacular. At some point computer animation is going to begin to feel commonplace, but not here. Every new animated film seems to find more ways to impress us with better graphics. The water looks good enough to dive into, and they showed it using several varied looks and colors.
As a technical example it's quite a piece of work to look at, but sadly that's about all you can say about it.