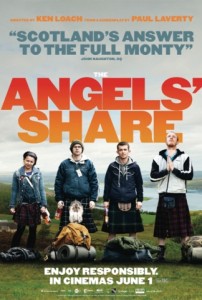 I know nothing about Scotch whisky. I've had it three or four times in my life, and I think I had really good brands based on the assessments of the friends who brought the bottles. Of course, there are many enthusiasts around the world who spend huge amounts of money on the spirits. Whether you can tell the difference between brands like Glenfiddich and Cragganmore or — like me — just appreciate that they taste strong and smooth, the new film from director Ken Loach may satisfy your cravings. The Angels' Share blends working class struggles with interest in Scotch whisky and a heist plot for a solid film that goes down smoothly yet doesn't rise to the level of the best years of the Loach brand.
The title is a clever name because of a plot revelation that comes later in the film. The actual term comes from the amount of water or alcohol that is evaporated from an aging barrel of whisky. Loach previously worked with writer Paul Laverty in the same roles on My Name is Joe and The Wind That Shakes the Barley, so it's expected that The Angels' Share meets a certain quality standard. The story revolves around Robbie (newcomer Paul Brannigan), a troublemaker and fighter from Glasgow. Robbie has worn out his welcome with the court, but he still manages to get one more shot as long as he stays out of trouble and performs community service. The gruff but lovable Harry (John Henshaw) corrals such workers, and Robbie meets Albert (Gary Maitland), Mo (Jasmin Riggins) and Rhino (William Ruane) on the job. They committed a variety of infractions to earn their work hours. When Robbie learns that he's going to be a father from girlfriend Leonie (Siobhan Reilly), he vows to become a better man for son Luke.
Harry is big fan of whisky, so when he takes Robbie, Albert, Mo and Rhino to a tasting at a distillery, they all develop an interest as well. Whisky collector Thaddeus (Roger Allam, the most recognizable face in the movie) notices that Robbie has a good nose and taste buds for whisky, which leads him to concoct a plan to help out his new friends and prepare a better life for Leonie and Luke. A cask of priceless whisky from the closed Malt Mill distillery is about to go up for auction. Robbie thinks that the foursome can steal a few bottles from the cask to sell to Thaddeus. This plan turns The Angels' Share from drama to heist film, and the proceedings are hilarious and occasionally tense given the personalities of the culprits.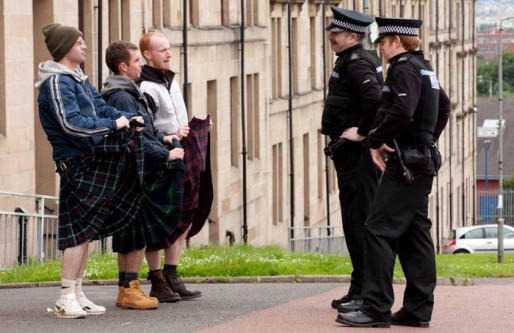 Loach is known for portraying people and their lives realistically. They're usually from the ranks of the working class or the poor. This film is no different. What's nice is how the main actors make their characters feel lived in, which is especially surprising given that this is the first major credit for Maitland and Riggins as well as Brannigan. Mo is a bit of a thief who can't help herself, and Albert is a first-class doofus who argues with the rest about silly points and is klutzy to boot. Loach and Laverty created a crew who you can get behind to attempt this burglary. How hard could it really be to pull off a heist from a rural warehouse? The discussions and knowledge about whisky feel right, and to add another level of authenticity, Loach cast famous whisky authority Charles MacLean as the fictitious expert Rory McAllister. I swear that I would have plunked down some serious money for whisky that was anywhere in the league of the film's whiskies after the credits rolled. The Angels' Share made me as thirsty for whisky as Big Night made me hungry for a gourmet meal.
For all its charm and laughs, The Angels' Share still has some imperfections in the mix. The most obvious problem for many moviegoers is the thick Scottish (and other) accents. Fortunately, there are subtitles, so this does not prove to be as important. The tonal shift may be too much for some viewers. The scenes are rather bleak early on before the heist gains prominence in the second half. This may all be realistic for Robbie's life. Still, the switch from dismal to jaunty could put a bad taste in the mouth of some folks. I loved the camaraderie of Robbie and his friends; it would have been nice to go on another road trip or adventure with them. As it stands, the film moves at a fast pace as it aims for that expected feel-good ending. It's a solid work that doesn't disappoint yet also doesn't pass the taste test for a great movie. Loach effectively uses the hit song "I'm Gonna Be (500 Miles)" by Scottish band The Proclaimers to inject levity into the movie; it's great montage music. Parts of The Angels' Share might evaporate from your memory after you leave the theater, but the good feelings that come from rooting on Robbie to win one for the little guy will stick with you for a while.