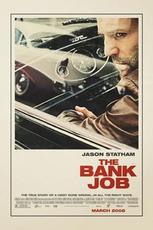 This past weekend we saw The Bank Job. It's a British movie about a seemingly typical bank heist that, of course, doesn't go exactly as planned. I'd be curious to see if a producer could make a movie about a bank job that does go exactly as planned. I'm sure there's at least one but none are coming to mind.
The movie isn't bad but it's not a film that you need to rush out to see either. The acting is pretty solid (notably from lead star Jason Stratham) and the story has some nice twists. In fact, the best part of the movie is that it continually starts down stereotypical bank robbery story paths and then suddenly veers off into new territory.
The only problem with that approach is that it takes a long time to get to those story arcs. In the end I came away feeling that I got my money's worth. However, here it is Monday and I had to remind myself that I even saw this movie in the first place. Much of the storyline I had to go back and read about to recall exactly what went on.
If you're looking for a fast-paced, electric bank heist film, this isn't it. This is much more a bank heist movie that demands a lot of background, a lot of talking and a lot of planning.