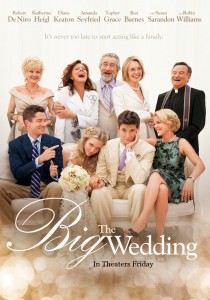 A diverse upscale family tries to survive a weekend of wedding activities that turns into far more than they bargained for in The Big Wedding.
The Big Wedding (a remake of the 2006 French film Mon frère se marie) brings together the Griffin family for the wedding of their adopted son Alejandro (Ben Barnes) to his fiancé Missy (Amanda Seyfried). The wedding will be held in the house Alejandro grew up in and is now owned by his father Don (Robert De Niro) and stepmother Bebe (Susan Sarandon). Bebe is just one of four mothers on the scene as also in attendance is his adoptive mother (Don's ex) Ellie (Diane Keaton), his biological mother Madonna (Patricia Rae) and his future mother-in-law Muffin (Christine Ebersole). The main complexity arrives when Alejandro explains that he's never told his extremely religious (and non-English speaking) biological mother that Don and Ellie are divorced. He felt she'd never come to the wedding if she knew the truth. The only answer, it seems, is for Don and Ellie to act like a couple for the weekend while Bebe accepts disappearing into the background for the duration. That'll be harder than it sounds as Madonna will be staying in the house with everyone else the entire time.
Don and Ellie have been divorced for a decade and Bebe has transformed Ellie's old house into her own while Don pretty much goes about his own business mainly disconnected from any family tensions. Ellie and Bebe have a challenging relationship as they used to be best friends. Now, of course, Bebe's living in Ellie's old house with her ex-husband. Good luck with that.
Also invited to the wedding are Don and Ellie's biological children Jared (Topher Grace) and Lyla (Katherine Heigl). Jared's a bright young doctor who's not very wise in the way of love, and Lyla's recently estranged from her long-term boyfriend, so a wedding's not exactly going to put her in the best of moods.
This cornucopia of top Hollywood talent — supported additionally by a few others including Robin Williams as the priest — knows how to deliver a winning film. Each one of them does a solid job with their own characters. We get a sense for the emotions and motivations of virtually all of them as the plot unfolds. Along the way, there's also quite a bit of resounding laughter to be had. The problem's with everything that falls between the laughs. It's an extremely uneven story that's woefully predictable and just dull outside the comedic moments. The younger members of the family also never fully feel like they belong — most notably the bride and groom. It seems as if the writers wrote a series of loosely connected skits and forced them all together, adding whatever elements they thought were needed to round out a complete movie.
In the end it's a lighthearted, feel-good comedy romp with a lot of star power that just doesn't quite reach the altar.