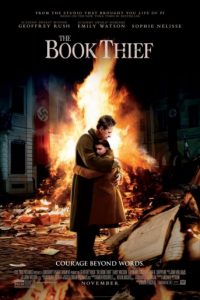 World War II Germany is seen through the innocent eyes of a young girl with a fascination for books in The Book Thief.
From the very first shot, I was captivated by this film. In an odd twist, it's narrated by not one of the main characters but by Death himself, who laments how busy he was during this period in our history. However, amidst all the chaos and destruction, one individual stood out above the rest. Liesel Meminger (Sophie Nélisse) is your typical adolescent girl until, one day, her mother is forced to abandon her to the care of foster parents just as Germany braces for war. Hans (Geoffrey Rush) and Rosa Hubermann (Emily Watson) are simple, capable guardians. Rosa appears to be a stern, irritable woman who never misses a chance to deride her meek but carefree husband. Hans is the lovable type. He quickly notices that, while Liesel's only possession is a prized book, she's unable to read it. He sets out to show her the magical wonder of the printed word and, in doing so, ignites an essential inner light.
We experience Liesel's world as she would. Every nuance is affected by her perception. A simple knock on the door becomes an anxious event. Everything looks bright and covered in a boldness that only a child's eye can see. Watershed events like the burning of books or the angry rants of a fascist politician are muted and indistinct, just as they would be for any child, unable and disinterested to know their full import.
This is a riveting tale that showcases incredible performances from not only the seasoned veterans but also the youngest actors. Nélisse is absolutely adorable in the role. She embodies the perfect mix of innocence and inner strength that's crucial to selling us on the story. Young Nico Liersch, as Liesel's best friend Rudy, wins over the audience with deft facial expressions and a truth that seems effortlessly genuine.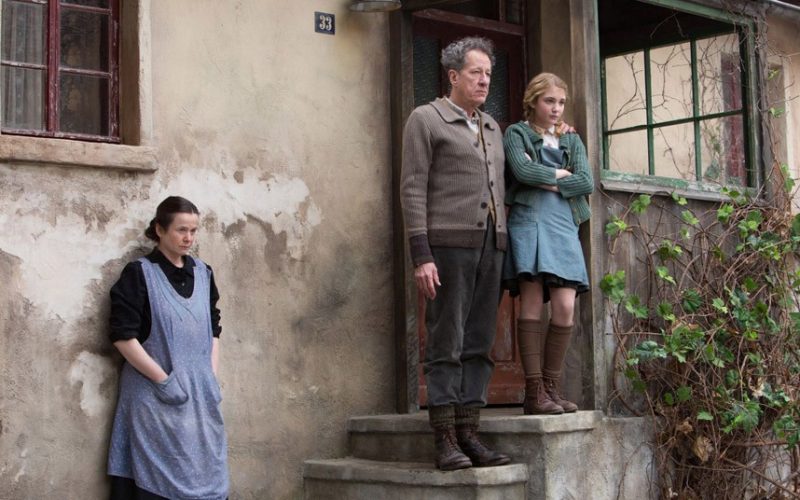 Rush, as the tender father figure, is great as always. Any daughter will well up every time he holds Liesel in his protective and caring arms. Watson, as the irascible mother, is likewise perfectly cast and one of the bigger surprises. We also get a haunting performance from Barbara Auer as the mayor's melancholic wife. Ben Schnetzer is also noteworthy as the Jewish refugee Max.
In early reviews, many have criticized the work as, in some way, glorifying the Holocaust or softening Nazis. Neither criticism is valid, and in fact, they are rather insulting. Not all Germans were Nazis, nor were they all evil or even invested in the war. This is a story about family members simply trying to live their meager lives surrounded by events entirely beyond their control. The alternative to such complaints would be a film that would likewise be dismissed for being dominated by single-minded stereotypes. Worse than that, these views cut at the fabric of such lessons of history by transforming the key players into caricatures easily dismissed as being entirely different from the rest of us.
This is a sincere, tender and touching film. It's awash in beautiful emotions and filled with moments of pure joy. Liesel caught me, and I cared.