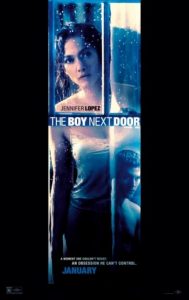 A recently-separated teacher becomes the obsession of her 19-year-old neighbor in The Boy Next Door.
Life for Claire Peterson (Jennifer Lopez) would seem nearly ideal for most people. She lives in a large, beautiful, upper-middle-class house with her teenage son, Kevin (Ian Nelson), surrounded by all of the essential trappings. The house is filled with expensive furniture, clothing and appliances. The one thing missing from her life is a man whom she can trust. She and her husband Garrett (John Corbett) separated when she found out that he wasn't exactly as trustworthy as he appeared to be. The experience left her scarred and unsure of herself and her womanhood.
One day, her neighbor's nephew comes to visit and befriends her son. Noah Sandborn (Ryan Guzman) is 19, but he looks much older. He oozes testosterone from a physique that melts women who venture too close to him. Topping it all off, he's sensitive, endearing, well-mannered and attentive. Claire can't help but take notice, and of course, Noah is just as curious about his newest friend's uncommonly attractive mother. What could possibly go wrong with this match made in heaven?Films like this should serve as a Hollywood eulogy for anyone responsible for their creation. Director Rob Cohen's most recent credit is as writer and creator of an unscripted TV show that takes place in various "gentlemen's clubs" around Detroit. This film feels exactly like what you'd get from someone who spends far too many nights surrounded by artificial bodies and a clientele who measure quality with single dollar bills.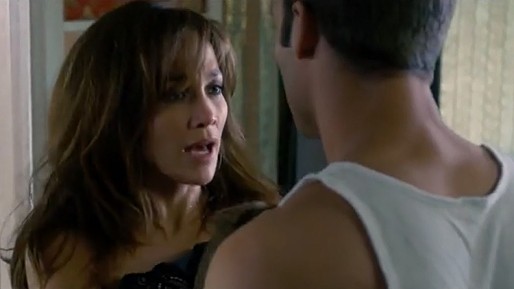 Lopez is actually the standout performer of the film, but she doesn't exactly have a very high level of quality to beat. Poor Kristin Chenoweth, playing Claire's boss and best friend, deserves much better. She clearly needed the money because there's nothing about this role that's worth her time. Cohen also directs one of the worst performances I've seen in years with Jack Wallace's rendition of Noah's sickly uncle. You'll laugh out loud at just how out of place these actors are.
For a few moments, the film reminded me of a gender-reversed version of the much better 1993 film The Crush. The more it went on, it evoked a DOA film from last year called The Guest. This is a tour de force of outlandishly ridiculous scenes. It's another in a long line of bad films with entirely avoidable outcomes had the lead characters simply said anything to anyone about what was going on. Of course, they never do.
Lopez said in interviews for the film that it has something in it for everyone. I agree. Its short 91-minute running time is something for which everyone can be thankful.