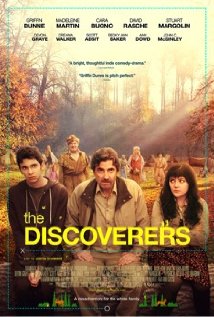 An aimless, down-on-his-luck history professor goes on an unexpected journey with his estranged family in The Discoverers.
Lewis Birch (Griffin Dunne) has seen better days. This once highly-regarded academic now finds himself working as a part-time professor at a small, unremarkable community college. His divorce, years ago, has left him distanced from his his droll and cynical daughter Zoe (Madeleine Martin) and his nearly silent son Jack (Devon Graye). Determined to reconnect, Lewis plans to spend the week with them on a road trip to Oregon where he's due to speak at an academic convention. Before they can get very far, Lewis is called upon to spend time with his ailing father Stanley (Stuart Margolin), who believes he's William Clark — some characters call him "Captain Clark" — of Lewis and Clark fame due to recent dementia. Before they know it, Lewis and the kids are begrudgingly compelled to join their elder patriarch on his yearly reenactment of the expedition.
This is no trivial undertaking. The reenactment troupe takes their hobby quite seriously, foregoing all current day garb, technology and verbiage. For them, it's 1805, and the world is all about new, incredible, natural discoveries. Sometimes, it takes getting lost to really find yourself. Reduced to their bare essentials and free from outside distraction, the family begins to see one another in a new light and to reconnect with what really matters.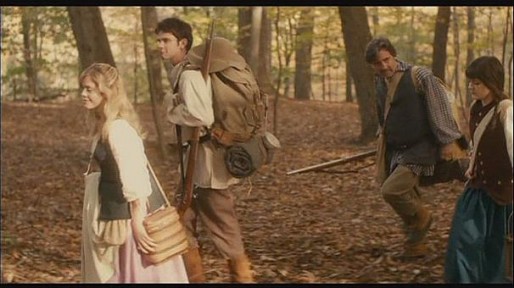 I've been a fan of Dunne since I first saw him playing the sardonic victim in the classic 1981 thriller An American Werewolf in London. Just last year, he surprised me with a strong character turn in Dallas Buyers Club. There's an everyman quality about him that just works. This time around, he delivers again as a grizzled, beaten-down has-been determined to put the pieces of his life back together. It's a performance worthy of a solid vehicle, but this just isn't it. The only other standout in the film is Martin, who gets all the best lines. Everything else is just amiss.
Writer/director Justin Schwarz doesn't seem to understand the negative impact of combining slow pacing with a silly plot and capping it all off with some poor casting choices. Contrived plot elements spring up like unwanted mushrooms after a musty, late-afternoon rain. There's also an abundance of all-too-convenient plot points that keep us from buying into the deeper story. The touching interaction between father and daughter is bound to ring true for many, but sadly, it's about the only thing here that does. This is one expedition that's bound to stay lost in the woods.