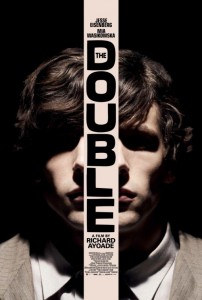 An introverted office worker, stuck in a mundane life, meets his twin but quickly learns they're nothing alike in The Double.
There must have been something in the water in Hollywood a while back. In the past year, we've seen the release of at least three major doppelganger-based films. Earlier this year, we had Ed Harris in The Face of Love, followed just a few weeks ago by Jake Gyllenhaal in the very forgettable Enemy. Now it's Jesse Eisenberg's chance to turn the other cheek.
Eisenberg plays Simon James, who might as well have the word "Loser" tattooed on his forehead. He is a meek, hardworking, socially-invisible data analyst at a government organization. His boss, Mr. Papadopoulos (Wallace Shawn), can't even get his name right. The security people can't remember him from one day to the next. The only light in his life is a female coworker and neighbor named Hannah (Mia Wasikowska) who works in the copy department on another floor. Simon James continually invents reasons for needing copies just to get close to her, if only for a fleeting moment. He hopes, against hope of course, that she'll suddenly realize how smitten he is and save him the trouble of making the first awkward move.
One day, Mr. Papadopoulos introduces the office to its newest hire, a bright, young, go-getter with all the right moves named James Simon (also Eisenberg). He's the spitting image of Simon James in every physical way, including his clothing. Emotionally, however, he couldn't be more different. James Simon is gregarious, funny, driven and rather wild. He, of course, is the object of everyone's attention, including Hannah.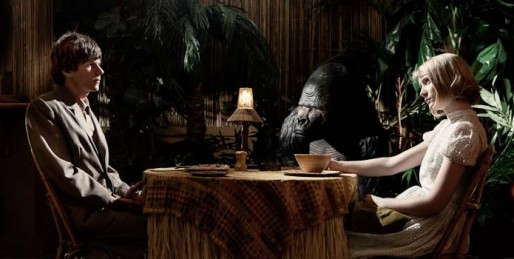 This highly-stylized, reimagined story comes to us from writer/director Richard Ayoade and is based on the 1846 novel by Fyodor Dostoevsky. Every element of the film is presented in dramatic, classic, film noir fashion. The characters are stark and bold even when they're intentionally understated (like Hannah). The look is dark, muted and ominous. The audio fits right in with harsh, loud effects permeating the gloomy, uncompromising music. It all combines to create a surreal, carnival-like experience that's both nightmarish and claustrophobic.
Unfortunately, the details of the story itself don't quite fit the rest of the vision. Major contradictions pull us out of the story time and again. No one's able to see the characters' obvious similarities, except when they suddenly can, all too conveniently. It's also so over-the-top that most viewers will simply find it to be entirely ridiculous. If the idea was to create a dream-like event from which I felt unable to escape, then bravo, it succeeded, and I don't mean that as a compliment.