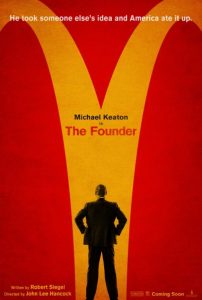 A run-of-the-mill salesman turns a successful local restaurant chain into the most successful franchise in history in The Founder.
Director John Lee Hancock would know a thing or two about building a successful franchise. His menu of previous films includes The Rookie, The Blind Side and Saving Mr. Banks. He continues his winning ways with his latest film about one of the most persistent men in business history — Ray Kroc (Michael Keaton). Kroc's rags-to-riches tale is a whirlwind story that could thin the thickest shake in an instant. The McDonald brothers (Nick Offerman and John Carroll Lynch) never knew what hit them.
The entire cast is superb. For example, Offerman delivers the most polished performance of his career. It's Keaton's performance as the heartless hero that seals the deal. His ability to embody Kroc, coupled with Hancock's immersive storytelling, presents the audience with something quite unique. We're served up a protagonist and antagonist in the very same character. We absolutely love this eager dreamer while also despising the very ground that he traverses as he walks over his victims. You impulsively want to spit at the screen, but that's going to delay a desperate sprint to the nearest McDonald's to wolf down a pile of fries.