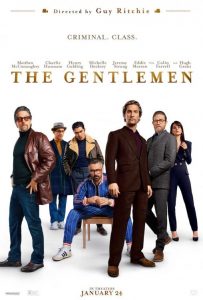 Britain's top drug kingpins plot to take over the country's largest pot facility in The Gentlemen.
It's been 20 years and eight films since I departed the Guy Ritchie bandwagon. His first full-length film was, of course, 1999's sensationally stylistic Lock, Stock and Two Smoking Barrels. His second film was the 2000 crime comedy Snatch. It wasn't quite up to the level of his first foray, but it was certainly worth the ticket price. His directorial efforts since then failed to deliver on any of the elements that made his first two films so enjoyable.
The first few minutes of his latest film ignite the fire of what once was. We're glued to its opening scene and the hope of a valiant, long-overdue return to form. Sadly, we then have to endure an hour of distraction before the film's better demons break down the door and drag the plot, kicking and screaming, to an entertaining finish.
Matthew McConaughey stars as Mickey Pearson, a smart, calculating drug kingpin who's built an enormously successful marijuana empire. When word gets out that Mickey's looking to sell, every one of his competitors wants a shot at taking over the business — with or without his support.
As the sharks circle, a tabloid editor who was once snubbed by Mickey hires a smarmy PI named Fletcher (Hugh Grant) to look into his background. Fletcher's investigation nets a surprising twist that he offers to sell to Mickey's most trusted employee Ray (Charlie Hunnam).
One twist follows another until we're all pretty lost in the chaos, and that seems to include Ritchie. He manages to confuse lots of dialogue and a slow pace for lots of intrigue and tension. Once the core story settles into place, we can finally start to enjoy the film's finer points. For starters, there's Grant. His portrayal of the sycophantic PI is one of the best and most memorable of his career. Grant captivates the audience with his storytelling. His flawlessly-timed facial expressions convey more depth and intrigue than 20 lines of dialogue from the rest of the cast.
There are also exceptional performances from Colin Farrell as a mysterious, dryly hilarious boxing coach and Michelle Dockery as Mickey's streetwise wife. Hunnam also impressed me for the first time in his film career. As for McConaughey, his role just isn't all that interesting. It has its moments, and he sometimes makes the most of them. Ritchie inexplicably has him delivering some of his lines with a strange, distracting staccato that unfortunately reminded me of his creepy Lincoln commercials.
Where Ritchie really delivered was the overall look and feel of the film. It's loaded with rich atmosphere, several memorable shots and enough humor to keep us engaged. It's no Lock, Stock and Two Smoking Barrels, but it does have a least one fully-loaded barrel, and that's more than enough for January movie fare.