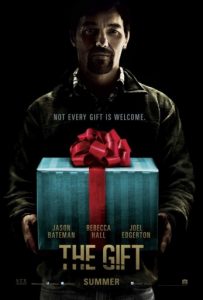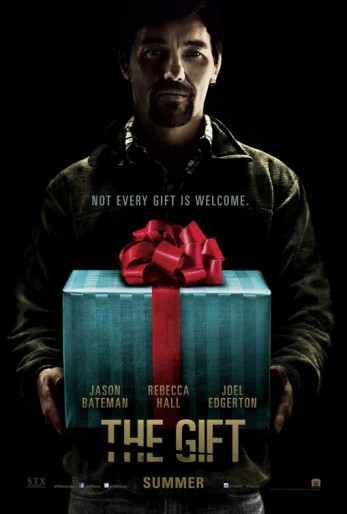 Have you ever run into an old friend or schoolmate and tried to escape as quickly as possible? Small talk can't possibly get any smaller in situations like that. Maybe you don't remember that person, or maybe the reason for that awkward feeling is that you know them all too well. This kind of random meeting is at the beginning of The Gift, a new thriller that restores my faith in the genre (for this week) because it's not an insulting movie in any way. The marketing campaign is another story entirely. The Gift is a smart thriller and cautionary tale about the ripple effect of our actions in our lives and the world around us.
This is the first feature film from writer/director Joel Edgerton, who is also one of the stars of The Gift. Edgerton has been in many films to date, most notably The Odd Life of Timothy Green, Zero Dark Thirty, The Great Gatsby and Exodus: Gods and Kings. This is a perfect project for Edgerton's filmmaking talents because it's ambitious thematically but not overloaded with special effects, stunts or other challenges that often trip up a first-time director. I'm even more impressed because he took on an acting job that alone would make his efforts memorable. The Gift will cause you to squirm in discomfort, and that all goes back to Edgerton no matter which hat he's wearing.
Although there are other characters in the story, it's ultimately a three-character movie. Technology executive Simon (Jason Bateman) has just landed a new job in California, and he and his wife Robyn (Rebecca Hall) buy an expensive house with plenty of windows and a koi pond. When the couple is out buying items for the house, a man approaches them and introduces himself as an old classmate of Simon's. At first not recognizing Gordon (Edgerton), or "Gordo" as he used to be called, Simon eventually remembers him, and he makes the pretense of getting Gordo's phone number. Before ever deciding to call Gordo or not, a bottle of wine shows up at the house as a gift from Gordo, and he later shows up unannounced during the day when only Robyn, who works from home, is there. The gifts and visits continue. I will say no more other than that history and facts about all three characters are revealed slowly and purposefully over the course of the movie.
For all three leads, this is some of their best work. Their characters all go through transformations, so it's a joy to watch the actors inhabit and expand upon their parts. Bateman displays his typical sarcasm and smugness, but he goes far beyond that in his well-rounded portrayal of Simon. Hall was born in London and has portrayed North Americans in the past. Robyn has a lot bubbling under the surface, and Hall wonderfully navigates her ups and downs. Edgerton goes to a different place when he jumps in the skin of Gordo. His mannerisms, speech pattern and general demeanor all scream "strange," and if he makes you unsettled from a theater seat, imagine what it would be like in person. I couldn't help but see a resemblance to Conan O'Brien, so I had to put that out of my mind to enjoy The Gift. The performances are so strong here that you could argue that this film would also work quite well as a stage play. The pace and revelations would build to one incredible final act.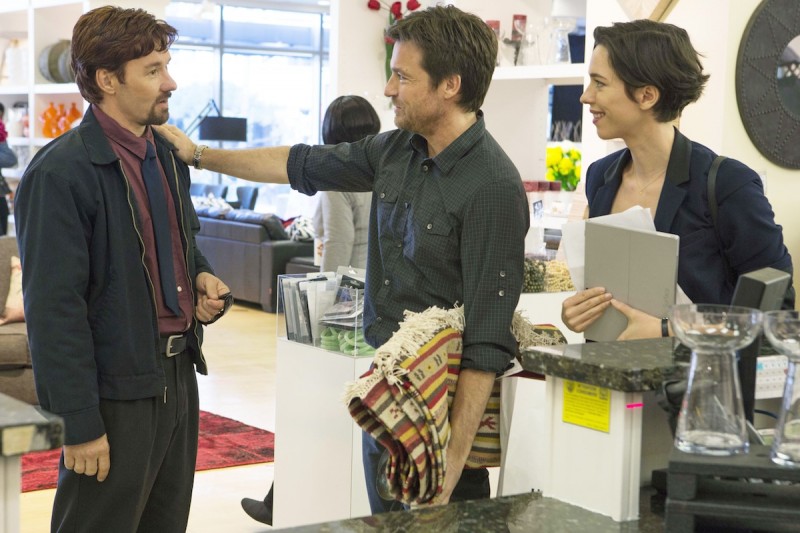 The poster, trailer and other marketing elements all do a disservice to The Gift. The poster implies that there's just one gift, and it made me immediately think that the movie might play out like The Box. My mind went to other films and boxes in them, and I immediately thought that the box might contain a head or some other body part. Fortunately, there is not a shocking cop-out like that. Instead, there are multiple gifts in the plot, yet the title still makes sense as you will see. The trailer that hints at a surprise that you won't see coming and the poster seem to come from the M. Night Shyamalan school of film promotion. The Gift is better than all of that nonsense. Although there are surprises in the plot, it has more substance than reliance on a twist or gimmick. The marketing campaign also uses a quote that compares this film to a classic thriller that I won't mention. A quote like that creates a false impression, and I actually think that The Gift is a better movie overall than that classic.
I didn't know what to expect, and I was pleasantly surprised. This is a slow-burning movie. Pay attention, and stay the course for the little payoffs along the way and an awesome finale and actual final shot that make me think of yet another film in a sort of homage. Edgerton gets everything just right. The Gift is a present to moviegoers who are sick of the same old tired thrillers.