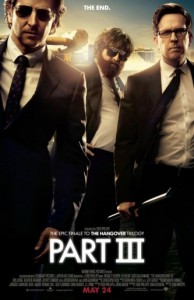 I'm annoyed when talented people destroy the essence of that which they created. You see it time and time again with books, films and computer/video games. I don't just mean a sequel or new creation that doesn't surpass the previous entry in a creative person's resume. I mean such a product that strays too far from what made those other items so special to begin with. I would easily rank The Hangover as a four-star movie; it caught people by surprise as a creative, vulgar, hilarious romp through Las Vegas. The sequel had a lot of the same elements in the new setting of Bangkok, but it certainly didn't outrank the original for me. I'd still call it a three-star movie. The Hangover Part III turns its back on the mystery/discovery element — the "what happened last night?" format — of the previous two movies and throws the familiar characters into a straightforward, however outrageous, plot about stolen gold and the recovery of a kidnapped friend. It also emphasizes two of the characters above all others so that it almost feels like an offshoot film instead of a direct sequel.
The Hangover Part III is the work of cowriter/director Todd Phillips (also cowriter/director of Old School and Due Date) and cowriter Craig Mazin (writer of Identity Thief). They worked in those capacities on The Hangover Part II, so maybe Mazin has soured and is the problem here because the disappointing Identity Thief left me cold. Although the members of the Wolfpack — Phil (Bradley Cooper), Stu (Ed Helms), Alan (Zach Galifianakis) and Doug (Justin Bartha) — are all on board, the focus lands on Alan and Leslie Chow (Ken Jeong) to the detriment of the other characters. Similarly, Phillips brings back Sasha Barrese (Tracy, Doug's wife), Jamie Chung (Lauren, Stu's wife), Gillian Vigman (Stephanie, Phil's wife), Jeffrey Tambor (Sid, Alan's father), Heather Graham (stripper/escort Jade) and Mike Epps (Black Doug), but all of their appearances are extended cameos or less. For the supposed end of the Wolfpack trilogy, all of the characters should have their time to shine and make a lasting memory. That doesn't happen here, so this is a rather disappointing farewell.
There's nothing wrong with Alan and Chow at the center of the movie because they're the more interesting characters anyway. Galifianakis and Jeong are scene stealers in just about any of their movies, so putting them together should result in a lot of amazing scenes. That only happens marginally because Alan and Chow somehow developed a strong friendship since the last adventure. It would be much better if they were enemies. The story flips back and forth between the Wolfpack and Chow and their efforts to solve their problems. The movie begins with Chow's daring escape from prison in Bangkok. Alan has supposedly gone nutso and stopped taking his medicine since the Wolfpack's time in Thailand, and two hilarious incidents serve as evidence of that mental state and are perfectly paired with "MMMBop" by Hanson and "My Life" by Billy Joel. Later, Chow delivers a little bit of musical fun himself by singing a karaoke version of "Hurt" by Nine Inch Nails and "I Believe I Can Fly" by R. Kelly in a rather appropriate situation.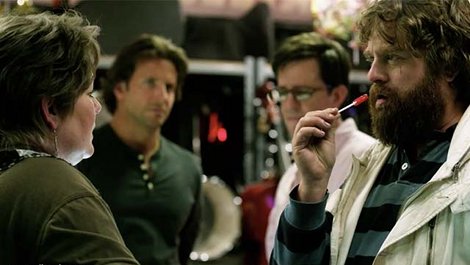 Most of the action in The Hangover Part III takes place in Las Vegas and Tijuana. Phil, Stu and Doug stage an intervention with Alan and decide to take him to a place in Arizona to chill out. Unfortunately, they don't make it that far before they encounter a bad guy named Marshall (John Goodman) in the desert. He kidnaps Doug and plans to hold him until the guys find Chow and retrieve the millions in gold bars that Chow stole. The mission takes them to Tijuana where they meet up with Chow before chasing him back to Las Vegas for a final showdown with Marshall. I could watch Galifianakis as Alan endlessly as long as they let Alan be Alan. Galifianakis keeps the movie humming along, and Jeong fills in the gaps as the delightfully brash, unpredictable and determined Chow. You never know what's going to come out of either character's mouths, and that's why I like them so much. In the hands of good writers, the laughs should be endless. I don't really know what happened here because there are too many slow spots, especially in the middle. Sure, you've got a scene with a bunch of angry chickens, but things calm down immediately after that instead of maintaining the momentum. Melissa McCarthy appears as Las Vegas pawnbroker Cassie, but this is not the best version of this wonderful comedienne. This is more like the subdued McCarthy from Identity Thief.
The Hangover Part III passes muster only because of the crazy sequences that involve the Wolfpack. Some of them were ruined by the trailer, so if you haven't yet seen the trailer, avoid it and enjoy the surprise of a few scenes. The film omits some key elements that made at least the first movie iconic and were continued in its sequel. I consider that a major mistake, especially when the advertising surrounding this film props it up to be the final and ultimate entry in the trilogy. Although there are plenty of animals, none of them have the impact of the capuchin monkey from The Hangover Part II. Mike Tyson should have come back for a cameo, too. I could easily come up with a dozen ways to fit him in, so the filmmakers should have tried harder. This isn't a case of me being a harsh critic or expecting too much. Two movies have led me down this road and built up my expectations. Don't switch the format now and expect the fans to go along with it. A key part of both previous movies was the revelation of pictures on a camera or phone that help fill in the gaps of the story and offer their own surprises. Alan constantly takes pictures on his phone here, but these don't lead to such a slideshow.
It may sound like I'm coming down too hard on this film. OK. I can see that. I just react to what's in front of me. If this were the first movie, there wouldn't be two others. That said, there were periods where I laughed so hard that I cried. That's what's so frustrating. Guys, don't hold back during the rest of the film. Throw in everything including the kitchen sink, and maybe have Chow give Alan a sponge bath in it. If you want the ultimate slap in the face, make sure you stay through the credits to see an amazing bonus scene. This scene is the epitome of what we all loved about The Hangover and why it should have been the launching point of The Hangover Part III. You'll know what I mean when you see it. Could there possibly be The Hangover Part IV? I'll hold out hope, even if we have to wait until Chow somehow becomes the mayor of Las Vegas.