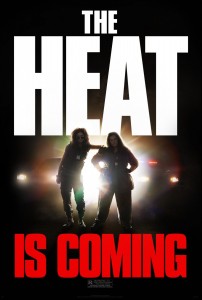 I was a big fan of Bridesmaids, and one of the main reasons was the out-of-control, wacky performance of Melissa McCarthy. When she's on, she's hilarious. When she's off, you get something like Identity Thief. It's strange that I've now discovered a movie where McCarthy fires on all cylinders and the movie still comes out lukewarm. The Heat is an attempt to start a female buddy cop franchise by teaming up McCarthy with Sandra Bullock. I don't blame McCarthy for anything that transpires, but there are definitely some problems with this first outing in an intended series.
Director Paul Feig also directed Bridesmaids. It's clear that he knows how to bring the best out of McCarthy. I'm not so sure he balanced her properly with Bullock. Writer Katie Dippold was also a writer on Parks and Recreation and MADtv; her TV background comes through in some of the scenes that would be right at home in a sitcom and simply don't work here. The film begins with two segments that show you exactly what you need to know about the main characters. FBI agent Sarah Ashburn (Bullock) leads a raid on a drug house in New York City in which she smugly uncovers drugs and weapons where her colleagues discovered nothing. Everybody in the FBI seems to hate her no matter how effective she is. Boston police officer Shannon Mullins (McCarthy) dresses like a slob and gets results on the street as she arrests a man soliciting prostitution (Tony Hale) and violently attacks the drug dealer named Rojas (Spoken Reasons) who also acts as a pimp. Mullins also doesn't get along with the cops at the precinct because they're afraid of her and think that she's crazy.
Of course, you just know that these two women are going to join up and somehow figure out how to work together despite their different styles. This is nothing new to buddy cop films. The plot is also not new. Ashburn gets sent to Boston by her boss Hale (Demián Bichir) to look for a drug lord named Simon Larkin who's moving in. Some of the funny stuff in the film involves Ashburn and Mullins meeting and Mullins pretty much running over Ashburn and taking over the investigation. Mullins has a contentious relationship with fellow cops Adam (Taran Killam) and Craig (Dan Bakkedahl), an albino who is the butt of many jokes. Ashburn only has another agent named Levy (Marlon Wayans) on her side. Mullins clashes with her rather boisterous family, including Michael Rapaport as her brother Jason and Jane Curtin as her mother. Ashburn and Mullins have many run-ins with criminal underling Julian Vincent, convincingly played by Michael McDonald.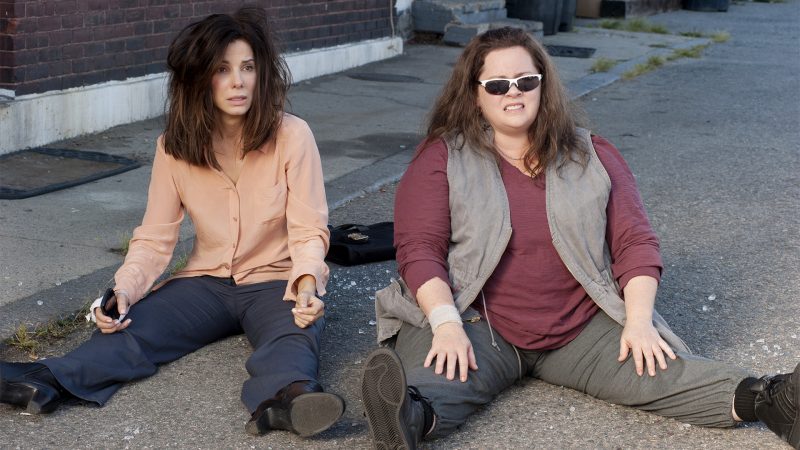 All of the elements are there for a great comedy, but there are also many jokes and actors that are wasted in the process. There's no question that McCarthy steals every scene she's in. Bullock plays the straight role and just can't keep up with McCarthy. I found myself laughing so hard at McCarthy sometimes that I missed the next lines, which were probably also funny. Those shenanigans sustain the film and keep it from life support because Bullock never really gels as a character. There's a standing joke of Ashburn never cursing in the film while Mullins lets loose a tirade of vulgarity throughout the entire movie — her epithet of "tattletits" to describe Ashburn is one of my favorites — so when Ashburn finally curses, it's a clumsy disappointment. That was a wasted moment for her that could have been better. I don't think Bullock could pull off the version of that scene that I would have liked — Oscar or not. Similarly, comics Wayans, Killam, Curtin and Tom Wilson get no funny lines at all. What gives?! Scenes rife for comedy around the Mullins dinner table and in a nightclub almost work. It seems that the filmmakers too often went for the cheap gags.
Great buddy cop film series like 48 Hrs. and Lethal Weapon entertain because both leads have something to contribute and the comedy is balanced with interesting detective work or a captivating plot. McCarthy supplies the comedy here; Dippold doesn't hold up her end with the plot. A surprise at the end of the film isn't really a surprise, and I hate when people get the drop on a criminal and don't shoot their guns or otherwise do what you or I would do to someone threatening our life or loved ones. I'm pretty sure that The Heat 2 is already in the planning stages. I don't look forward to it if it's more of the same. McCarthy's shtick can only go so far, and it doesn't work when mixed with melodrama as in Identity Thief. Bullock has done comedy before in a similar role with Miss Congeniality. Here she's simply miscast and misguided.