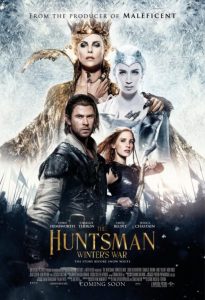 Clever writers can take an unlikely premise or an unexpected twist and make it work no matter what. I never thought that there could or would be a sequel to Snow White and the Huntsman. After all, it was the end of the story, right? If that weren't enough, a scandalous affair pretty much ensured that the same filmmakers and cast wouldn't work together again. Imagine my surprise when I heard about another movie with some of the same characters. With an established audience ready to give it a chance, it was in the hands of the filmmakers to win or lose fans with this film. Fortunately, smart writing and new strong female characters turn The Huntsman: Winter's War into gold worthy of a magic mirror.
Director Cedric Nicolas-Troyan graduated into his directorial debut after being the visual effects supervisor on Snow White and the Huntsman and working in special effects on a number of major films. He knew this world already, so it was a perfect fit to put him in charge and let him run with it. Similarly, the writers are suited for this movie. Evan Spiliotopoulos has a history in writing Disney movies — not that this is a Disney treatment of Snow White's story at all — so he has proven that he can weave a fairy tale or two. Writer Craig Mazin's forte is comedy with such films as The Hangover Part II, Identity Thief and The Hangover Part III, and his contribution is crucial for continuing the comedic aspects that strike a wonderful balance between adventure and comedy.
The Huntsman: Winter's War's plot is woven carefully around the structure of its predecessor's story. Part prequel and part sequel, the focus is on the titular character Eric played once again by Chris Hemsworth. Queen Freya (Emily Blunt) is the sister of Ravenna (Charlize Theron), and after a tragic event, the two sisters split up and Freya goes off on her own to build up a frozen kingdom with her newly discovered powers of controlling ice, frost and other chilly things. Freya raises an army of children, three of whom grow up to become Eric, Sara (Jessica Chastain) and Tull (Sope Dirisu, who deserved more screen time). Eric and Sara get separated and later join forces to take on Freya along with the help of four bickering dwarfs — Nion (Nick Frost reprising his role from the first film), Gryff (Rob Brydon), Mrs. Bromwyn (Sheridan Smith) and Doreena (Alexandra Roach). The group encounters a variety of challenging obstacles on the way to Freya that turn the film into an episodic adventure of sorts as well as a fairy tale.
Hemsworth is reliable in films like this and can be counted on to deliver both the looks and the brawn. He holds his own as the lead, but the solid female cast really overpowers him with their standout performances. It was surprising that Theron actually has a minor role here. The marketing campaign, including Ravenna's size on the poster, would indicate otherwise. Blunt and Chastain refreshingly step up and create new characters who command your attention. The comparisons between Freya and Elsa of Frozen are obvious, but Freya leans toward all-out evil rather than just anger. Chastain is quite simply a badass, and her work here reminds me of her role in Zero Dark Thirty as a no-nonsense woman who stands toe to toe with the men and more often than not overpowers them. If these women weren't enough, Smith and Roach add another flavor. Smith steals every scene and has some of the best one-liners, and her mischievous looks and flirting winks round out a memorable character. If she likes a man or dwarf, nothing's going to stop her.
With Nicolas-Troyan in charge, I expected the special effects to be top-notch, and he didn't disappoint. From the opening transformation of the Universal logo into Ravenna's magic mirror, The Huntsman: Winter's War is a gorgeous feast for the eyes and a challenge for the effects crew. In the predecessor, I enjoyed the reinvention of the familiar magic mirror into a liquid-metal creature as well as the transformations of Ravenna into monsters. Those kinds of effects are still here, but there's so much more. All of the ice and frozen surfaces are impressive, and even more subtle things like the sizes of the dwarfs compared to humans are seamless. The best effects-heavy movies make you forget that you're watching movie trickery, and that's the case here. I especially liked the sequence with goblins that move like a combination of bulls and monkeys. Mixing effects in fight scenes is particularly tricky, yet these artists got it right every time.
The Huntsman: Winter's War doesn't rise to the level of series like The Lord of the Rings. Still, there's enough meat here to command another trip to this universe if someone comes up with a great idea. A nice touch is a familiar voice as a narrator for the story; you'll recognize him in mere seconds. The amazing costumes deserve special mention as well. I would expect to see some Ravenna and Freya costumes come Halloween. In a summer of huge blockbusters, I'm glad that this movie got a release on its own weekend away from all of the superheroes. The Huntsman: Winter's War fully embraces fantasy as only a few movies do each year and left me wanting so much more as clearly one of the fairest of them all.