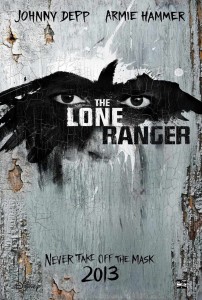 Many moons ago, kemosabe, Will Smith was the talk of the trail as he dominated the Fourth of July movies with Independence Day and then Men in Black. Greedy producers thought that they could produce the same magic once again, and they pushed their luck with a Western called Wild Wild West. Similarly, the folks behind the Pirates of the Caribbean movies dominated a couple of Fourth of July time periods and then, later, early summer weekends. Not learning from the past, these filmmakers decided to go Western; the result is the lackluster and interminably long The Lone Ranger. Full of problems galore, this snoozer needed a slice here and there of Captain Jack Sparrow's sword in the editing booth. You must be "tonto" if you think that there will be a sequel to this film anytime soon. No matter how much the ladies like Johnny Depp in war paint and feathers, The Lone Ranger needs to ride off into the sunset.
There's a scene early in the movie in which John Reid (Armie Hammer) — aka The Lone Ranger later in the film — is dragged through a seconds-fresh pile of horse manure with his head getting the brunt of the excrement. In many ways, that's how I felt I was treated by this movie. That's not to say that there aren't some wonderful stunts and memorable scenes. It's just that there's way too much filler and not enough excitement. The trailer acts like a reel of the best shots from the film, and that's bad when they give it all away up front. Director Gore Verbinski and cowriters Ted Elliott & Terry Rossio worked on the Pirates of the Caribbean series, so they perhaps thought that they could make the same combination of action, adventure and comedy work again. There are elements of that spirit here. Cowriter Justin Haythe (cowriter of Snitch and writer of Revolutionary Road) joins the team for this project and perhaps was brought in to offer fresh ideas.
Despite the title, it's clear that Depp is the star here. That may be exactly what's wrong, but more than a few times, I thought "Thank God for Johnny Depp" because he at least injected the only humor in these proceedings. A framing segment that's almost a short film itself has an aged Tonto (Depp) in 1933 San Francisco telling the plot of this film to a little boy dressed like The Lone Ranger. In a very long backstory that takes place in 1869 Colby, TX, John's brother Dan Reid (James Badge Dale) is murdered and leaves behind wife Rebecca Reid (Ruth Wilson) and son Danny (Bryant Prince). John is on a train that gets boarded by outlaws, and Tonto happens to be right there with him, starting their relationship literally under fire. After a few amazing stunts, Tonto saves John again when John joins a group of men on horses headed into a canyon in search of the outlaws. From that point forward, John and Tonto ride together with John wearing a mask atop the white horse named Silver.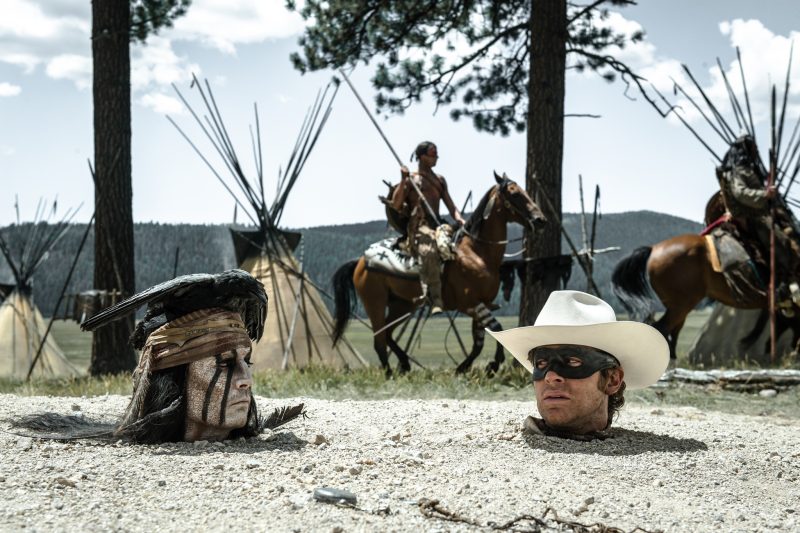 The biggest problem with the film is the stop-and-start approach to the action. There are some really good explosions, stunts, train sequences, riding scenes and other creative moments. The in-between moments are what ruin the fun. There are two kinds of bad guys in The Lone Ranger — the ones with guns and the ones with the money. The setting for the film is near Comanche lands with robber barons like Latham Cole (Tom Wilkinson) taking control of the property, including a mine, that produces the most profit. William Fichtner dresses down and dirties up as Butch Cavendish, a gritty outlaw who sells out to the highest bidder. The Lone Ranger and Tonto go after all of the nefarious elements, so there are plenty of talking scenes in between the fights and stunts. Other cast members who stand out include Barry Pepper as Captain Jay Fuller and Helena Bonham Carter — in a Depp movie not directed by Tim Burton — as Red Harrington, a former ballerina with an ivory leg that contains a gun in the heel of her shoe. The last time I saw this gun-leg combo, it was on Rose McGowan in Planet Terror. That's a bit of plagiarism, no? James Frain, Lew Temple and Stephen Root also fill out the recognizable cast. I couldn't stop thinking that Wilson looks a lot like Michelle Monaghan. She probably gets that a lot.
Hammer made his mark in The Social Network, and then he joined the cast of that awful Snow White mess called Mirror Mirror. He'll certainly get some more attention from this film, and in all fairness, he does as well as can be expected with scene-stealing costar Depp cracking jokes in monotone. By the time the William Tell Overture plays, it's much later in the movie, and you may have forgotten that this character has its roots in a time when kids everywhere pretended that they were The Lone Ranger. Westerns like that were products of a different era, and I just don't see people clamoring for more of them today. If anything, moviegoers want Westerns with a twist like Unforgiven or The Proposition. If the plot was simplified and the editors leaned more toward the action instead of the dialogue, The Lone Ranger might have won me over. Instead, it might be more interesting to investigate the many theories about the word "kemosabe," thought to mean "trusty scout" or "faithful friend," depending on whom you ask. Even better, play a drinking game with how many times Tonto says "kemosabe" in the movie.