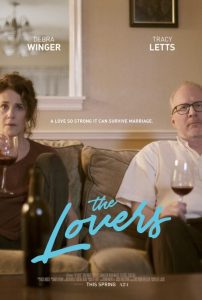 A bored married couple plot their eventual escape from one another in The Lovers.
Anyone who's experienced a long-term romantic relationship knows the potential pitfall that's claimed the marriage of Mary (Debra Winger) and Michael (Tracy Letts) — complete and utter apathy. Their once loving bond has eroded and stretched to the point of unspoken mutual surrender. Both have plans for a new life beyond the borders of their safe, but wholly colorless, connection. All that remains is to find the right moment to spring the news on their unsuspecting partner.
This timeworn story of a relationship lost to a lack of open communication and trust feels like an uninspired musical without the songs. Its willowy orchestral soundtrack and often understated dialogue do less to draw us into the story and more to risk putting us to sleep. That isn't to say that the film is without its merits. Its biggest draw is the return of Winger as a lead. It's her first such role since 2001, but really, we need to go back to 1995 for her last memorable leading role in 1995's Forget Paris. The long absence hasn't made a dent in her talent or charisma.  For those too young to recall, Winger was once the darling of Hollywood with three best actress nominations and a résumé of unforgettable performances in films like Terms of Endearment, An Officer and a Gentleman, Urban Cowboy and many more. While this film isn't in the same league as any of those, her performance is every bit as bright.
What holds back this film is lackluster writing and questionable casting beyond the lead actress. The dialogue between characters is extremely synthetic. It has the stink of a bad Woody Allen film. There are also too many scenes, including the ending, that just feel entirely inauthentic. The problem is magnified by the performances of Letts, Aidan Gillen and Melora Walters. All three behave as if they're acting for a stage audience. It just doesn't work. The film's lack of energy drains us in much the same way as its leads. We get by living on the nostalgia of what once was, but now we're left contemplating divorce.