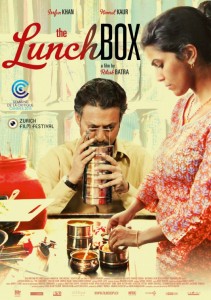 A melancholy office worker builds a curious relationship with the wife of a man whose lunch he's mistakenly receiving in The Lunchbox.
One of the local traditions to be found in Mumbai are the "dabbawalas," or the men who deliver round, canister-like lunchboxes that most workers have delivered either from home or from a local eatery. Every afternoon, a bicycle arrives to deliver a fresh meal and to take away the previous day's empties. On one such day, Saajan (Irrfan Khan), a bored claims worker, finds his normal, mundane lunch replaced by an aromatic, mouth-watering feast. Perhaps the restaurant has changed menus or chefs, he assumes. A few days later, the canister arrives with a note from the intended recipient's wife, Ila (Nimrat Kaur), who's realized the mistake. He writes back to tell her how wonderful her cooking is, and from there, their relationship grows through nothing more than the power of the written word.
Saajan is despondent over the recent loss of his wife, while Ila is disillusioned over the distance that's grown between her and her busy husband. The meals were her attempt to win back his attention. Saajan also has a new, nagging underling that his boss wants Saajan to train in preparation for his impending retirement. The daily meals and, even more so, the curious, compelling notes provide the perfect distraction for both of them.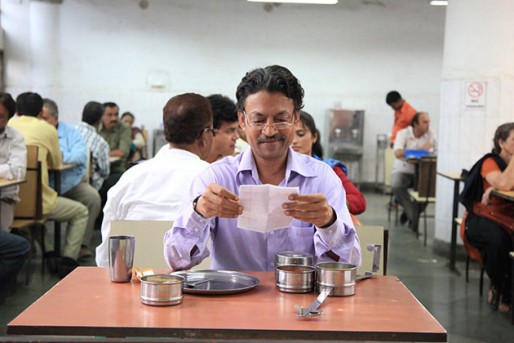 This Hindi/English-language film is both mesmerizing and endlessly fascinating. It doesn't hurt that the food is so prevalent that you can almost taste it from your theater seat. Such a simple premise seems almost too basic to provide much entertainment value, yet I found myself waiting breathlessly for the next day's canister to arrive. Their relationship continues its build until both of them reach the key watershed moment. Will they take the leap out of the comfort of their anonymous existence or simply go their separate ways? We can feel the tension in every moment and the depths of their distinct insecurities. Neither has ever seen the other. Saajan is much older than Ila is, while she is, of course, a married woman. It's all so crazily impossible yet so natural and invigorating.
The script builds the relationship between the two main characters in a way that's immediately believable and easy to identify with. Khan, whom American audiences might recognize as the older Pi from Life of Pi, and Kaur put on a great show. You also can't help but lament the loss of the inherent intimacy of the handwritten letter, so foreign in today's digital world. No text could ever bear such poignancy.
Sadly, the film chooses to give us a harshly abrupt ending that I found entirely unsatisfying. Except for that single, though critical, misstep, this was a meal almost everyone can savor.